Shining a Light with Radical Transparency
As the Radical Transparency website launches today, Chief Risk Officer Hayley Scott shares her point of view on the initiative
November 9, 2023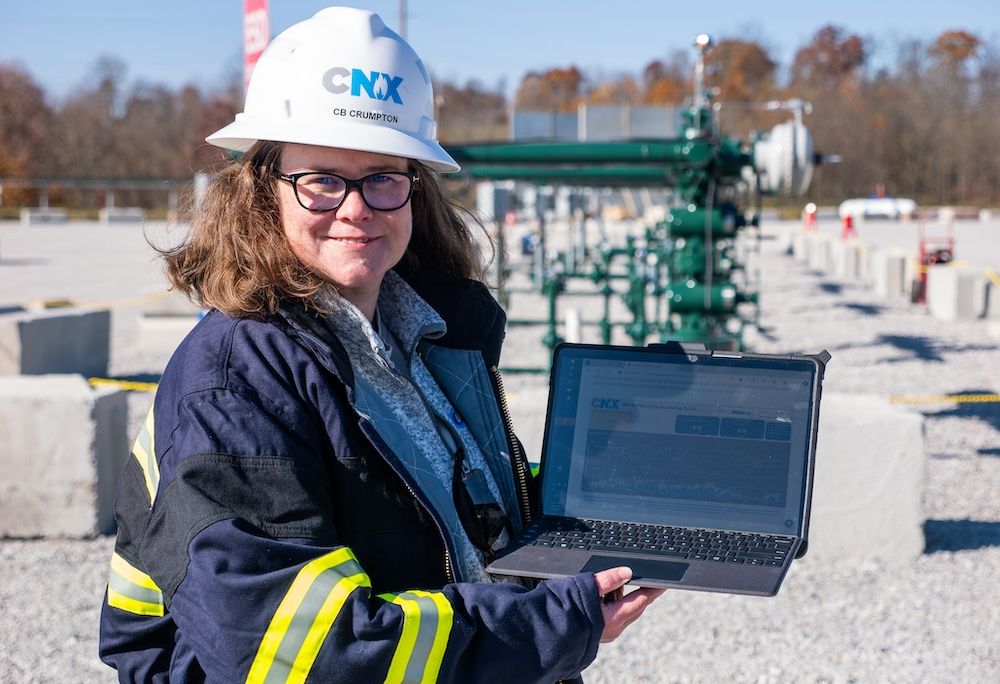 By Hayley Scott, CNX Chief Risk Officer
What are the things you have been scared of in your life? Most of us can picture the shadowy figures we sometimes see in the night, the hidden monsters that our minds create out of the things we can't fully see. But shining a light on things pushes fear aside and lets us see what we're really facing, often nothing worrying at all and just a facet of our overactive imaginations. ​
This is where the natural gas industry has been, shrouded in a lack of clarity, a lack of understanding, and fear. Our unprecedented approach of Radical Transparency shines that light to provide facts and data in place of fear and mistrust. At CNX, we believe providing clear insights into our operations by monitoring air emissions, water, and waste, and sharing that data real-time on our website will confirm for all stakeholders that there are no adverse human or environmental health issues related to responsible natural gas development.
Today, the Radical Transparency website went officially live at www.CNXRadicalTransparency.com. It provides important background and contextual information about our operations and the development process so all viewers can better understand our work and see relatable data displayed.
This website, and the comprehensive Radical Transparency monitoring and disclosure effort that underpins it, is historic and is our effort to ensure that our families, neighbors, and the public have a full understanding of the natural gas industry and its critical role in the environment, economy, and society at large.
CNX has never shied away from being the first to do something radical. We did it many years ago with coal bed methane capture, we did it as part of the Marcellus shale revolution, and we are continuing to do it today with the Utica shale and all the exciting frontiers that our New Technologies team are broaching. We love to innovate and lead. We have done it for nearly 160 years, and we aim to lead the industry into a new era of responsible domestic energy development – beginning with this initiative.
Data-driven analysis and transparency is what will guide environmental regulations in a way that protects the public and recognizes the important role that the energy industry plays in Pennsylvania and the Appalachian Region as a whole. This data should put to bed the calls for increased setbacks between gas sites and buildings, which based on the proposed buffer zones of 2,500 feet, would be a de facto ban on natural gas drilling.
Importantly, we fully believe open-sourcing the facts and data to all stakeholders creates mutual trust, which will serve as the basis for cooperation and real environmental and economic progress.
That's why all of our air monitoring data will be collected by and reviewed for quality assurance by a third party, and all of the data will be provided unabridged directly to the PADEP and to CNX, reassuring that there is nothing that CNX is doing to the data before it is shared with the public. Again, enhancing that level of trust.
We will, inevitably, find some things that we can do better – and we will embrace them head-on. The wonderful thing about collecting data is that it uncovers things that you didn't know before. Information is knowledge, and as is proved again and again and again, "what gets measured gets managed."
We will learn and we will continuously improve. And we hope that others will follow. We care so much about this region that we call home and we want nothing more than to continuously help it to thrive and grow, along with the people that live here. We believe Radical Transparency is an important step to achieving those goals.
Using data, everyone wins.
Related Articles