Executing A Formula for New Energy and Manufacturing Catalyzed in the Prolific Appalachian Basin
CNX Chief Operating Officer Navneet Behl expands the Appalachia First vision.
September 29, 2023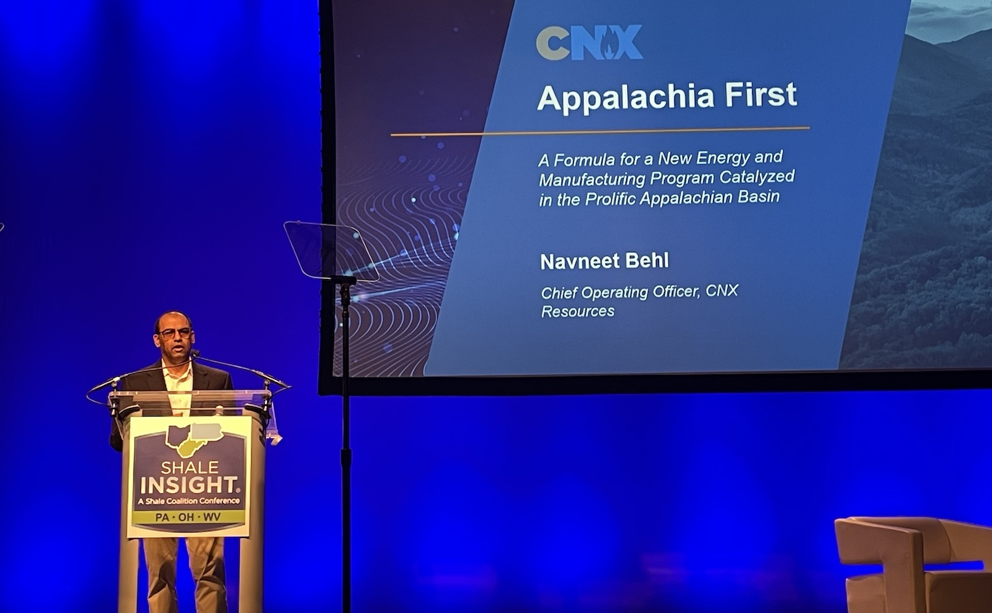 By Positive Energy Hub Staff
"We've been testing an Appalachia First strategy for 160 years – refining it as needed to ensure we're truly making an impact in our region and beyond," CNX Chief Operating Officer Navneet Behl explained to a room full of industry and business leaders at the Marcellus Shale Coalition's annual Shale Insight conference.
Charged by a long history of innovation, CNX has evolved with a local-first mindset to constantly seek new and improved ways to produce abundant energy from the Appalachian region. Company breakthroughs allowed us to tap the prolific Marcellus and Utica shale formations in 2008 and 2012, respectively, and groundbreaking multi-well pad drilling and completion techniques helped establish the Basin as the lowest cost operating region in the United States.
These engineering revolutions led to cost and production efficiencies across the board. Recognizing the need to reduce greenhouse gas emissions without jeopardizing access to reliable energy, the team began applying emission reduction technology, electric frac fleets, and other advancements to drive lower carbon intensity.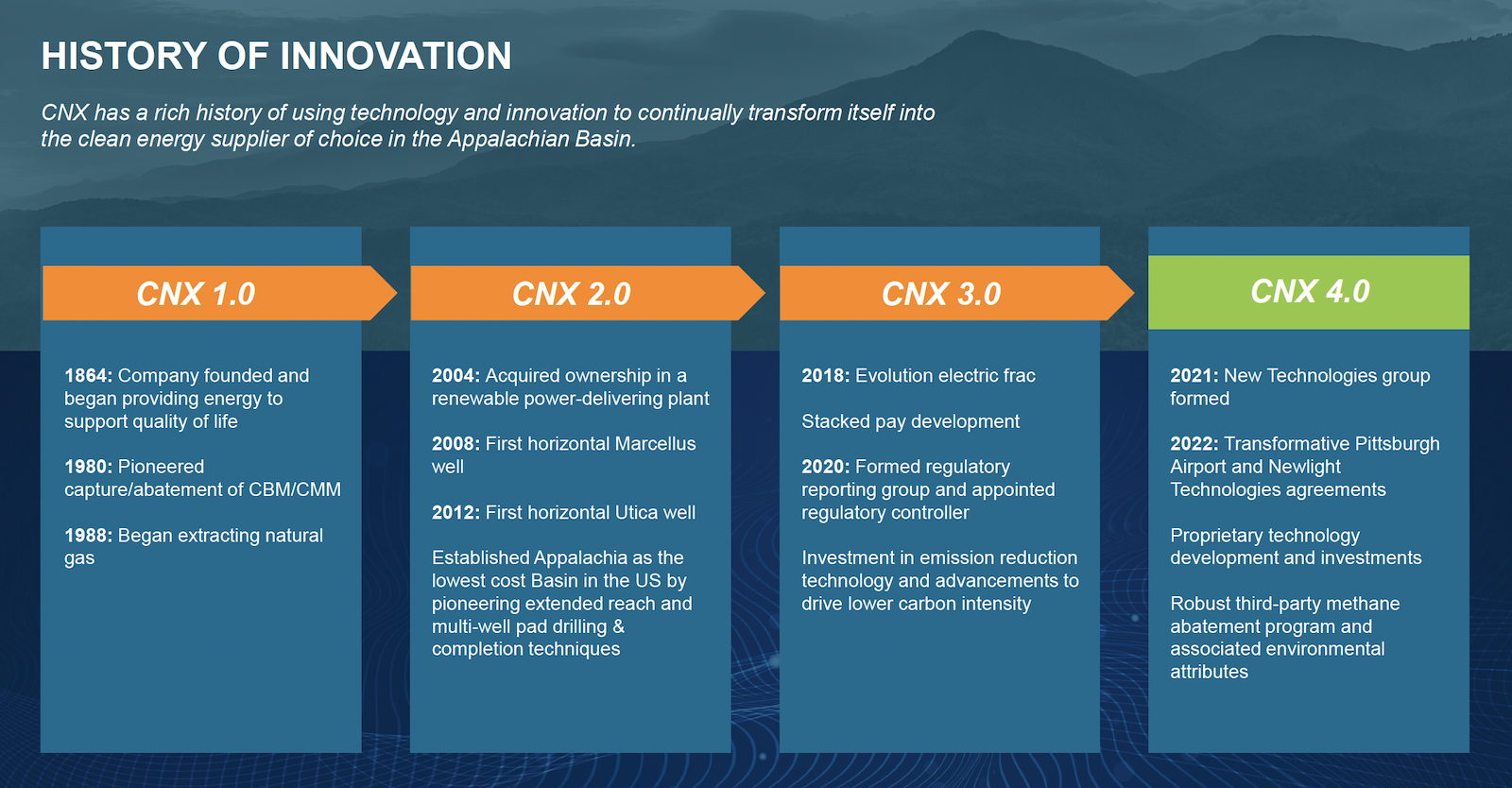 But now in this next chapter, Behl flexed the strength of a unique Sustainable Business Model strategy – one that's tailormade for our local footprint – which has catalyzed 14 consecutive quarters of significant free cash flow (FCF) generation.
In fact, since formally implementing this tangible, impactful, and local business strategy in 2020, we've generated $1.8 billion in total FCF. That's money being reinvested in the business to jumpstart research and development initiatives that'll power our company and communities for centuries to come.
Enter CNX New Technologies, a dedicated business unit that's designed to further reduce carbon intensity from natural gas through process innovation, product innovation, and by partnering on new products for the future.
How? The formula is simple: CNX and Appalachia fuel new industrial and manufacturing by leveraging the broad applications local natural gas provides. It's the epitome of a "produce it here, use it here – first" mentality. For example:
Apply proprietary technology to change manufacturing processes for the extraction and delivery of natural gas.
Capture and convert greenhouse gasses into sustainable products and applications.
Supplant foreign oil and disrupt industry via CNG and LNG to transform hard-to-abate-sectors.
Jumpstart the local hydrogen economy.
Importantly, this is all happening right in the heart of Appalachia: A clean ammonia manufacturing facility at the southern tip of West Virginia, expanding developments at Pittsburgh International Airport to build a sustainable fueling depot, and converting captured greenhouse gasses to manufacture biodegradable plastic in Hannibal, Ohio. Those are just a glimpse of what's planned to continue enhancing the proud area where our employees, contractors, and partners work and live.
Fun fact: CNX sustainable aviation fuel capabilities have the capacity to fuel all flights out of the Pittsburgh International Airport for 50 years.
Learn more about these innovative projects charting a new, sustained way of life using the resources, minds, and competitive advantages found in our home – Appalachia.