Safe, Compliant Shale Gas Development in the Heart of Allegheny County
How CNX Helps Enable Pittsburgh International Airport's Ongoing Transformation
October 24, 2023
By Navneet Behl, CNX Chief Operating Officer
Over the summer and early fall, our teams safely and compliantly completed four new wells and began flowing natural gas previously confined beneath Pittsburgh International Airport's runways. The wells, located on CNX's fourth well pad on airport property, were brought online in a manner aligned with our corporate values and operational expectations: zero safety incidents, zero near misses, and zero reportable environmental incidents.
Nestled off the runways in western Allegheny County, these latest wells are part of CNX's ongoing, broader innovative public-private partnership with Pittsburgh International and the Allegheny County Airport Authority to responsibly develop natural gas from beneath airport-owned lands.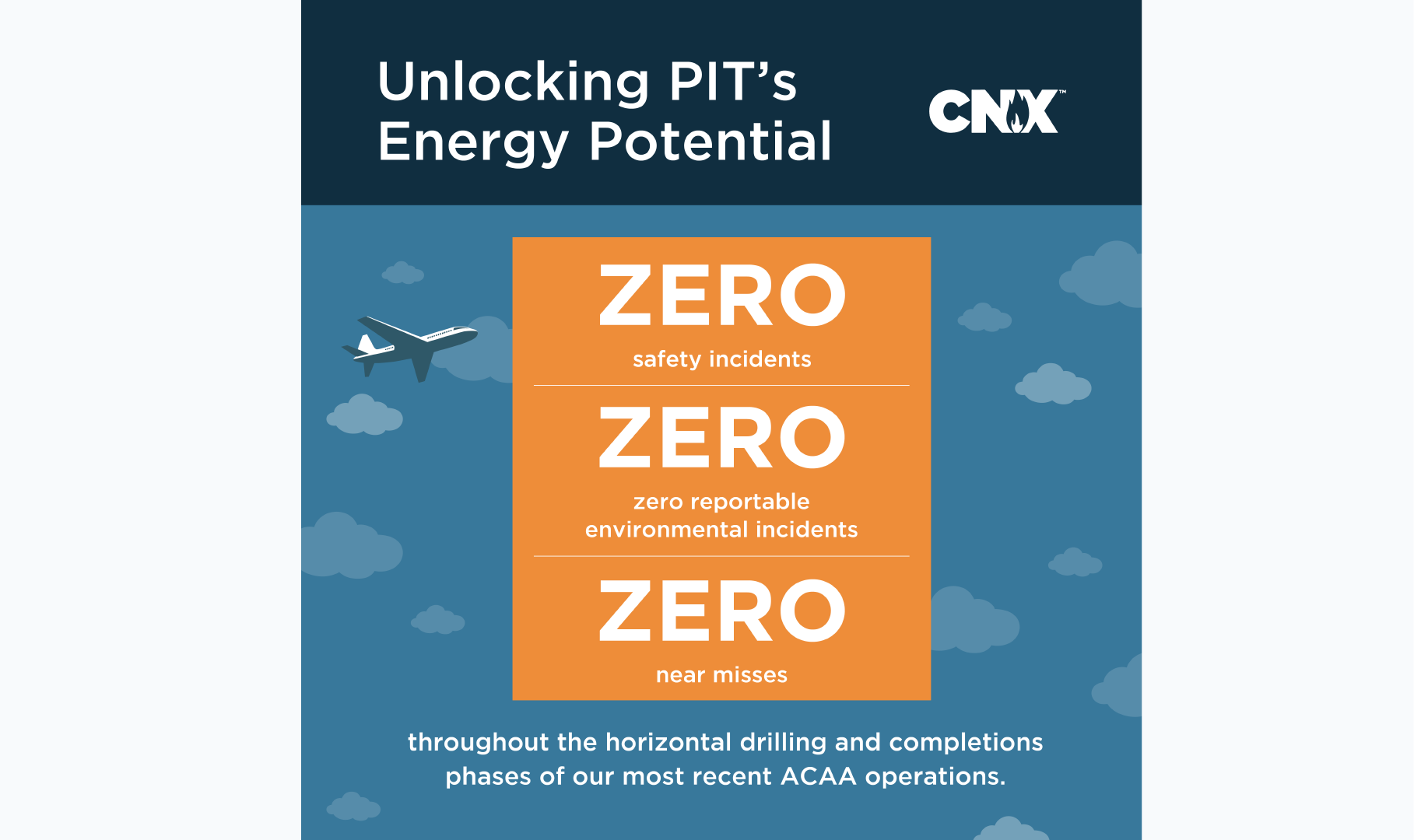 To-date, CNX-drilled and operated wells have already provided over $70 million in royalty revenue for the airport (in addition to an up-front $50 million payment at the outset of the partnership in 2013). Adding to that ongoing total, these four new wells are projected to generate nearly $30 million through 2042, including nearly $15 million over the next four years.
Over the next 10-years, we project natural gas will deliver $160 million in additional royalty revenue to the Allegheny County Airport Authority.
In addition to the dollars flowing to PIT and the county via the royalty stream, CNX has spent over $140 million in capital to develop the airport property over the last ten years, with another $150 million in capital anticipated to be spent over the next ten years, driving additional broad economic benefits in the heart of Allegheny County.
For the thousands of Pittsburghers traveling through the airport on a daily basis, recognizing the value of these natural gas resources enabled the billion-dollar terminal modernization project to take flight, helped establish more non-stop destinations, and is helping PIT emerge as a sustainable aviation fuel pioneer through our partnership to convert natural gas into clean-burning natural gas derivative products like CNG, LNG, hydrogen, and low-emissions aviation fuel on site at PIT.
At CNX, we know this property is a crown jewel for Allegheny County, its citizens, and the broader Western Pennsylvania community. That's why we've brought our latest drilling and development technologies to this pad, including the use of an electric frac fleet, which dramatically reduces noise, emissions, cost, and overall community impact.
What's more, our teams planned, routed and worked closely with the airport authority to ensure the wells are developed in a manner that doesn't disrupt commercial air traffic or passenger experience. And we executed our plans flawlessly in a manner consistent with our safety and environmental values.
We're proud to make good on the promise made to Allegheny County a decade ago and we will continue to seek new opportunities to leverage airport natural gas for the good of the county's citizens.
Related Articles