CNX Corporate Sustainability Report: Strong Corporate Values Drive Measurable Community, Operational Progress
June 6, 2023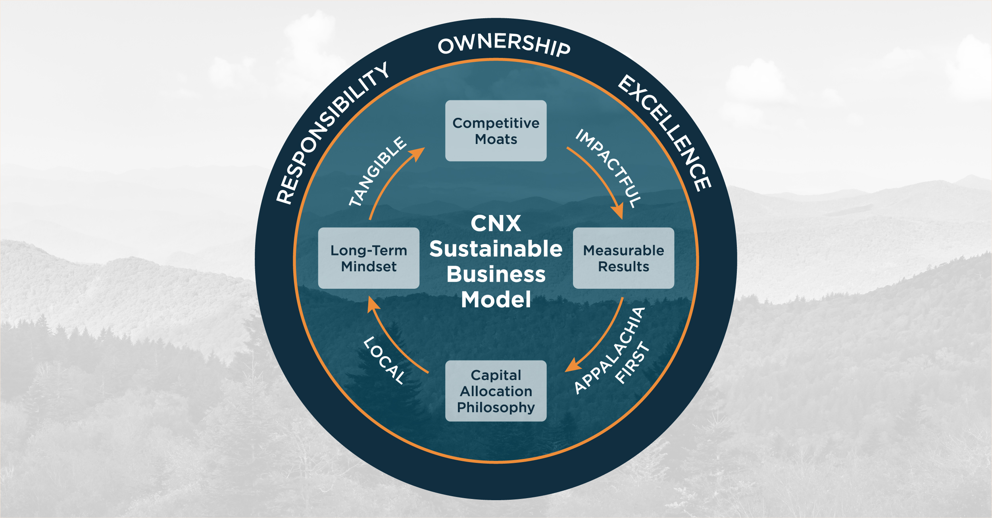 By Hayley Scott, Chief Risk Officer, CNX Resources Corp.
Since CNX's founding nearly 160 years ago, deeply ingrained values of responsibility, ownership, and excellence fostered a differentiated approach to sustainability – one that puts the people of Appalachia first by prioritizing investments and utilizing resources to make a Tangible, Impactful, Local difference for all stakeholders.
The Appalachian energy we produce is, always has been and always will be, a catalyst for economic growth and improving lives. It's only natural that we aim to empower our employees to follow suit. Embracing innovative change that creates value for investors, enhances communities, and delivers energy solutions is what CNX preaches to employees, contractors, and local partners. It's what has made us resilient and ahead of the curve over the last century and a half and will continue to drive our success for decades to come.
Grounded in an Appalachia First strategic vision, supported by our core values, and brought to life by a Tangible, Impactful, Local ESG approach, CNX is uniquely positioned in a differentiated ESG performance class. Throughout 2022, we made tangible progress on our sustainability commitments due to operational excellence, innovative investments, and a prudent capital allocation strategy.
These achievements include:
Protecting & Improving Our Environment
Our passion and our business is to produce the affordable, reliable, and clean energy that our world needs. We will continue to push the envelope through technological advancements, process improvements, water and waste management, air quality initiatives, and driving down regional GHG emissions.
The Appalachian Basin is the lowest methane emission intensity basin in the United States, and CNX is leading in driving meaningful progress in the basin. Through engineering excellence, a New Technologies business unit dedicated to driving carbon capture and methane abatement, and partnering with like-minded organizations, CNX has further reduced operational methane intensity by 32% from the production segment and by 52% from the gathering and boosting segment since 2020.

These were primarily achieved by controlling vented emissions as well as a focus on water handling-related emissions during well completions and liquid unloading events. In total, CNX has reduced methane by 86,000 tons of CO2e since 2020, and captures approximately 5.7 million metric tons of waste methane CO2e annually – far more than what is emitted from our activities.
Looking ahead to 2023, CNX committed an additional $7 million in capital investment to methane reduction efforts. We expect this to reduce methane by an additional 70,000 tons of CO2e annually. We are proud to have led on tackling one of the seminal issues of our time and will continue to set the pace for the industry when it comes to methane reduction strategies and execution.
Investing in Our Communities & Workforce
CNX has called the Appalachian region home for generations. We believe in creating "quality of life energy" that expands the positive impacts of our work through safe and compliant worksites, honest and transparent engagements with all stakeholders, and making sustainable investments that strengthen our communities and have a positive social impact in the areas that need our help the most.
Unfortunately, we've seen neighbors become shut out from the many economic opportunities in energy and manufacturing that represent a realistic path to the middle class. Through the CNX Foundation, we aim to facilitate creative problem solving to invest in challenges that are often overlooked or ignored.
This is the very definition of our Tangible, Impactful, Local mindset.
Between the company and Foundation, more than $6 million was invested in Appalachian communities throughout 2022. This includes funding for the Mentorship Academy, made possible by a CEO compensation reduction, where rural and urban students learn from local leaders and industry experts about the numerous career options available to them through hands-on activities, tours, and personal and professional coaching.
Now in its second year, the Academy has 63 students representing 17 area high schools across six regional counties. CNX proudly employs six graduates in full-time positions ranging from external relations to information systems and technology.
We also believe small businesses play a big role in growing local economies. Through The HQ at CNX, minority and women-owned businesses and nonprofits can build their network in the shared co-working space and gain access to CNX's auditorium, classroom, and other facilities and amenities to help elevate their efforts across our communities. In 2022, eight local tenants moved into The HQ at CNX, including Big Brothers Big Sisters of Greater Pittsburgh, Dress For Success Pittsburgh, K&J Café and Catering, Leadership Washington County, the Language and Behavior Center, Transitional Paths to Independent Living (TRPIL), True Fit Marketing and Waynesburg University.
Aligning Performance, Enhancing Diversity, & Managing Risk
We wouldn't be where we are today if it weren't for a strong culture of using innovation to pursue emerging opportunities while managing risk and creating long-term value. CNX's rigorous corporate governance structure ensures that we uphold our values of Responsibility, Ownership, and Excellence in all aspects of our business.
For us, this excellence and commitment to diversity of thought and skill starts at the top with a diverse and dynamic executive team. In 2022, we made a commitment to increasing diversity on our Board of Directors and our Board now consists of 29% of directors that self-identify as diverse in either gender or race/ethnicity.
---
Clearly, we're proud of the achievements made through our differentiated approach to corporate social responsibility. While the details outlined here provide just a glimpse of our work throughout the year, we know the priorities of each of our stakeholders vary. In this year's sustainability report, we've included a 'Build Your Own Report' feature to help connect you with the information that matters to you most. Read the whole report or build your own version by visiting sustainability.cnx.com.
Related Links