Appalachia First: Our Vision for a Stronger and More Sustainable Region
Embracing the innovation talent, resources, and opportunities of Appalachia to transform our region, nation, and the world. Read about it here.
December 14, 2022
By Ravi Srivastava – CNX President, New Technologies
Global energy demand is projected to increase nearly 50% by 2050, and at the same time, there's a growing awareness and urgency for more sustainable energy solutions. At CNX, we are proud to be part of the solution and to uphold our responsibility to deliver the reliable and affordable energy necessary for today and tomorrow.
We have a vision for the future that embraces innovation and harnesses the talent, resources, and opportunities of Appalachia to transform our region, nation, and the world – all while lowering emissions and providing more low-cost energy. We do this by better leveraging Appalachia's strategic advantage with affordable and abundant natural gas.
We've built a Tangible, Impactful, and Local approach that prioritizes the needs and opportunities of our region's stakeholders above all else. We believe it is the right strategy to improve the quality of life across Appalachian communities and to create new vertical markets for the region and the world.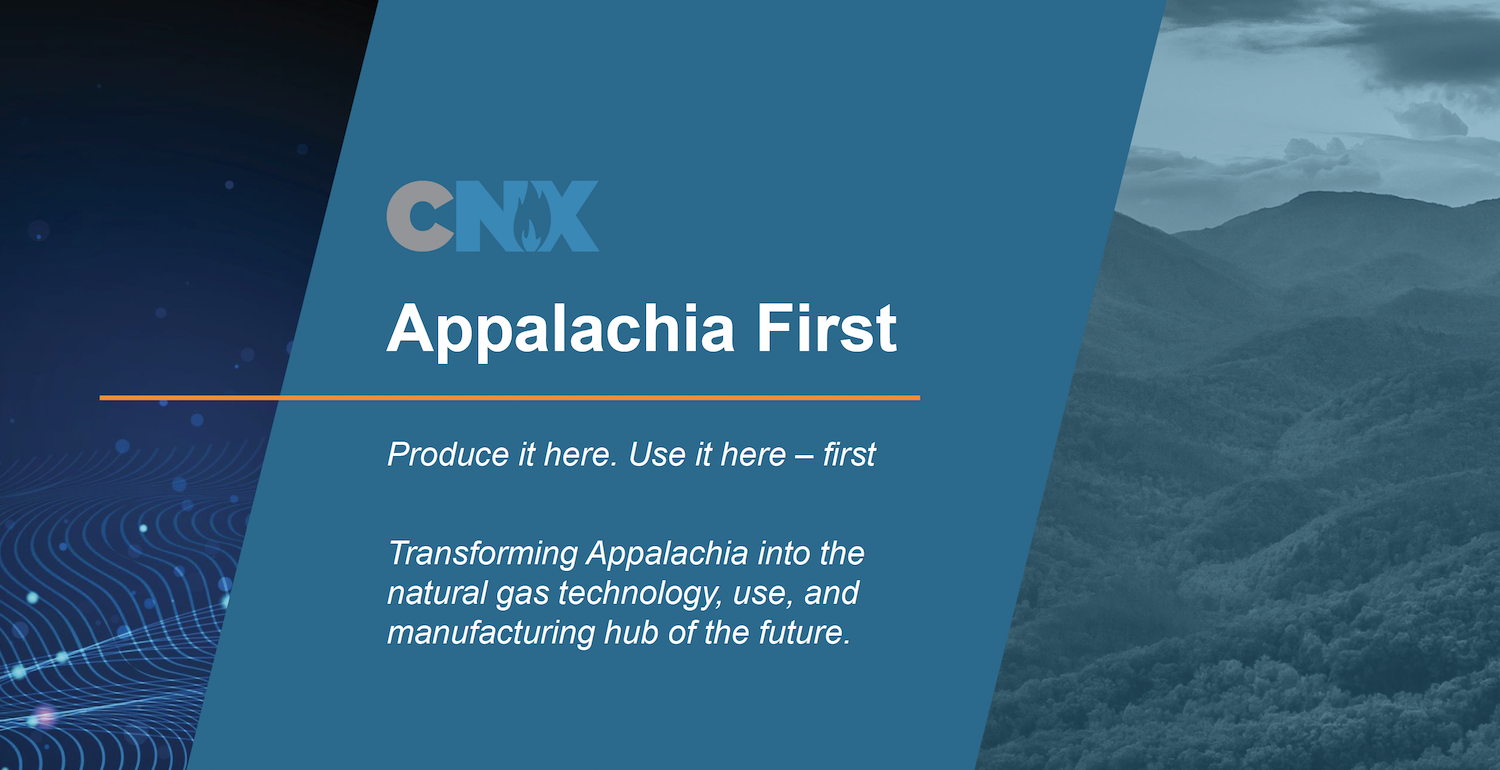 APPALACHIA FIRST
As one of the largest, most efficient, and environmentally sustainable sources of natural gas in the world, Appalachia has the tools to become the epicenter for skilled labor job creation while lowering regional, national, and global carbon emissions. This is why CNX has always been, and always will be, Appalachia first.
CNX's vision for the future is built around the following key objectives:
BOLSTER ALL ECONOMIC SECTORS THROUGH LOWER COST, LOWER CARBON, AND LOCALLY PRODUCED NATURAL GAS
Natural gas is the most cost-effective and quickest solution to near-term GHG reductions while maintaining energy reliability. Despite decades of policy incentives and subsidies, renewables are just over 6% of the current global energy mix and unable to keep pace with growing demand.
Since 2006, the increased use of natural gas in the electric power sector has prevented more CO2 emissions in the U.S. than what wind, solar, and nuclear power combined have been able to achieve. That's good news – but there are still massive opportunities to deliver additional emissions reductions by using more Appalachian natural gas.
We believe natural gas is the catalyst – not a bridge – for a more sustainable future. By replacing higher emitting fuels, low-cost and low-carbon natural gas from the Appalachian Basin is the best option to meet growing energy demand and continue delivering environmental progress.
DEVELOP AND DEPLOY NEW INNOVATIVE TECHNOLOGIES TO ENHANCE NATURAL GAS AND PRODUCT DERIVATIVES FOR VERTICAL MARKET GROWTH
Our strategy today will only be successful if we have an eye toward the future. At CNX, we are constantly developing and testing new technologies to improve our processes and foster a truly sustainable future.
With our proprietary technology, CNX is leading the industry in abating methane, developing sustainable manufacturing processes for the production and delivery of everyday products – and we're investing in these solutions right here in Appalachia.
At the same time, we are fast-tracking new technologies that enable the integration of hydrogen and renewables into our economy, vertically expanding our market growth and leadership position.
Strategy in Action
Building on our partnership with PIT to provide 100% of the airport's electricity needs via an innovative, on-site microgrid, we envision Neighborhood 91 as a sustainable fuel hub utilizing locally sourced, lower-cost, and lower-carbon natural gas.
We've developed proprietary technology to convert on-site dry natural gas into liquified natural gas (LNG), compressed natural gas (CNG), and electricity, fueling depots for transit, cargo, military, and other business purposes.
TRANSFORM HARD-TO-ABATE SECTORS BY DISPLACING HIGHER EMITTING FUELS WITH LOCALLY PRODUCED NATURAL GAS
The shale revolution transformed the U.S. into a major energy exporter. But in 2021 we still imported over 20 quadrillion Btus of petroleum and natural gas. That's enough energy to power every passenger vehicle in the U.S. for nearly a year and a half. CNX's vision seeks to replace foreign energy imports with affordable, low-carbon, and local natural gas. This robust approach has the power to revitalize the Appalachian region, creating socio-economic benefits and liberating downstream economic opportunities that create family-sustaining jobs.
Strategy in Action
Sustainable solutions to support clean manufacturing in Appalachia are already at work. Plastic waste makes up ~80% of global marine pollution, and high-emitting industries are looking for ways to quickly decarbonize essential economic sectors like mining, manufacturing, and agriculture processes.
CNX has entered a long-term strategic partnership with Newlight Technologies to utilize captured methane to produce biodegradable and net-carbon negative alternative consumer plastic products. Beginning with emissions associated with coal mine safety procedures, the project will target methane from anaerobic digestion of food and agricultural waste, as well as carbon dioxide from energy facilities and direct air capture.
ACCOUNTABILITY AND TRANSPARENCY
The energy industry is complex, and energy policy in the U.S. is, unfortunately, an increasingly politicized issue. Our strategy relies on clear, consistent disclosure requirements to ensure market participants are held accountable based on a fair and level set of standards.
We need tangible and quantifiable metrics at the national, state, county, and municipal levels to gauge the efficacy of energy policies and solutions in real time. Our plan includes metrics and policies to ensure that level playing field, which includes everything from a more competitive corporate tax rate to smarter state and federal permitting. If we can do that, it'll open up new opportunities and allow us to better leverage our strategic resource: Appalachian-sourced, low emissions natural gas.
To learn more, please review our comments filed with the U.S. Securities & Exchange Commission.
BETTERING LIVES AND COMMUNITIES
In addition to providing products essential to everyday life, CNX's mission is to revitalize Appalachia's rural and urban underserved communities. Our company – with its 158-year local roots – uniquely understands the opportunities and challenges confronting this community.
From our Mentorship Academy, formed to prepare high school students in local underserved areas to be impactful citizens, to our commitment to offering the highest median annual compensation ($160,365) of any regional public company – CNX is invested in the individuals powering Appalachia's future.
CONCLUSION
We are still in the early innings of the natural gas opportunity in Appalachia. Our vision has the power to transform our region – and industry – by leveraging our competitive advantage in lower cost, lower emissions, abundant, and efficient natural gas. This is also a vision that cannot be outsourced because it can only materialize in Appalachia. It is a roadmap to a better future – how we will catalyze Appalachia's energy revolution to meet growing energy needs today and the sustainable solutions necessary for a brighter tomorrow.

​We hope you'll join us to bring this vision to life.