Strong 2022 Results Demonstrate Resilience of CNX's Unique Business Model
Company's Sustainable Business Model Delivering Long-Term Value in Midst of Macro Volatility
January 26, 2023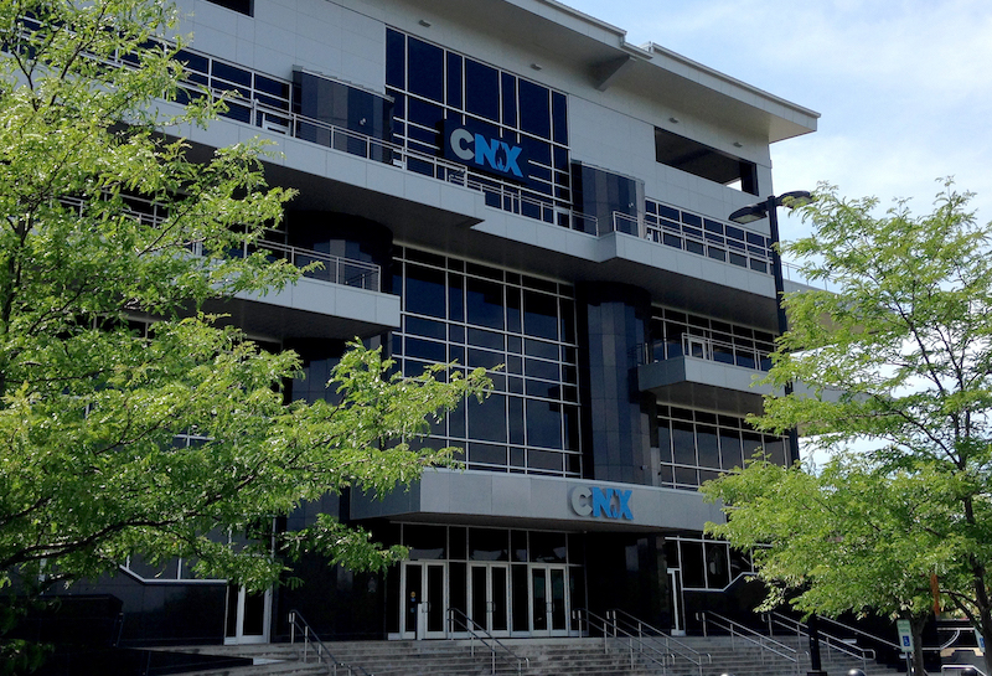 By Positive Energy Hub staff
Executives with CNX Resources, Appalachia's lowest cost and ultra-low carbon intensive natural gas producer and technology innovator, say its 'Sustainable Business Model' (SBM) is effectively driving stakeholder value throughout commodity cycles – as designed.
Envisioned three years ago as a differentiated strategy to unlock value over the long-term rather than pursuing short term results, CNX continues to realize operational efficiencies, generate free cash flow (FCF), and reinvest those resources into transformational business growth opportunities and regional communities.
Through the fourth quarter of 2022, the company has delivered 12 consecutive quarters of positive FCF, generating approximately $1.6 billion since Q1 2020 and an annual record of $707 million in 2022. That consistent performance has enabled the company to retire shares and reduce debt, generating meaningful shareholder value as well as providing significant liquidity under existing credit facilities.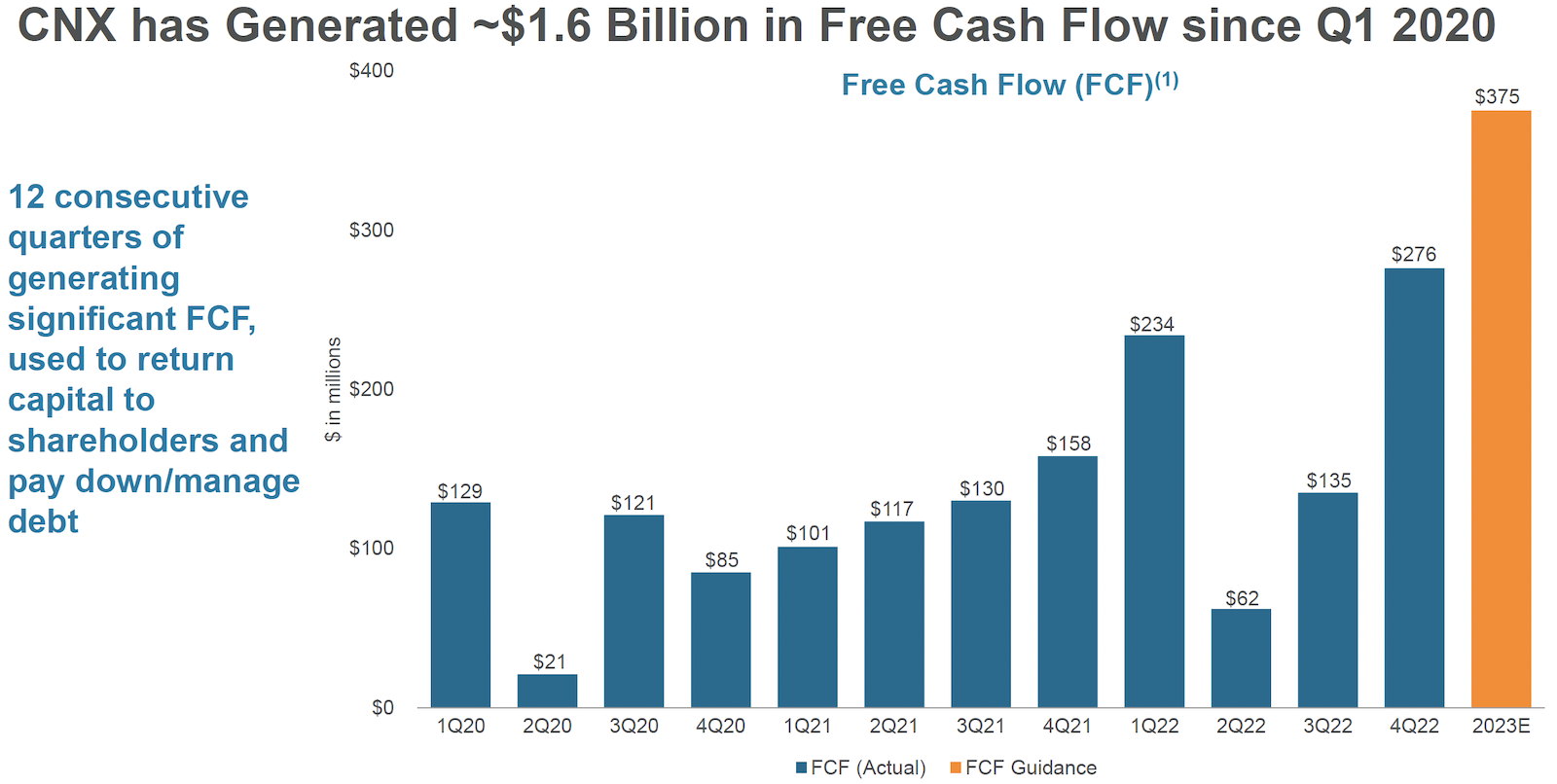 On the share buyback front, the company continues to break the mold. CNX said it has retired nearly 25 percent of its outstanding shares since the inception of the share repurchase program in 2020, a feat matched or bested by only four other companies in the S&P 500 and by only 22 companies in the S&P 1500. ​
"A few years ago, we put in place a highly strategic Sustainable Business Model that's built to deliver shareholder value throughout commodity cycles," said CNX CFO Alan Shepard. "That model is working as we've delivered more than a billion and a half dollars in free cash flow in the last three years and are using the strength of our balance sheet to drive shareholder and regional returns, and lasting value for all stakeholders."
Operationally, the integration of CNX's upstream and midstream assets along with other innovative cost-saving measures throughout its methodic well-development program are demonstrating the model's resiliency and strength in the face of commodity cycle shifts and macro volatility.
"At its core, our Sustainable Business Model is grounded in disciplined capital allocation that positions us for continued success regardless of the moment's commodity dynamics, which no one can predict or control," said CNX COO Navneet Behl. "Our SBM's continued success reflects the hard work of CNX's dedicated and talented employees, our investments in new technologies like electric frac and drilling solutions as well as other innovative approaches that we're commercializing with industry-leading sustainability partners."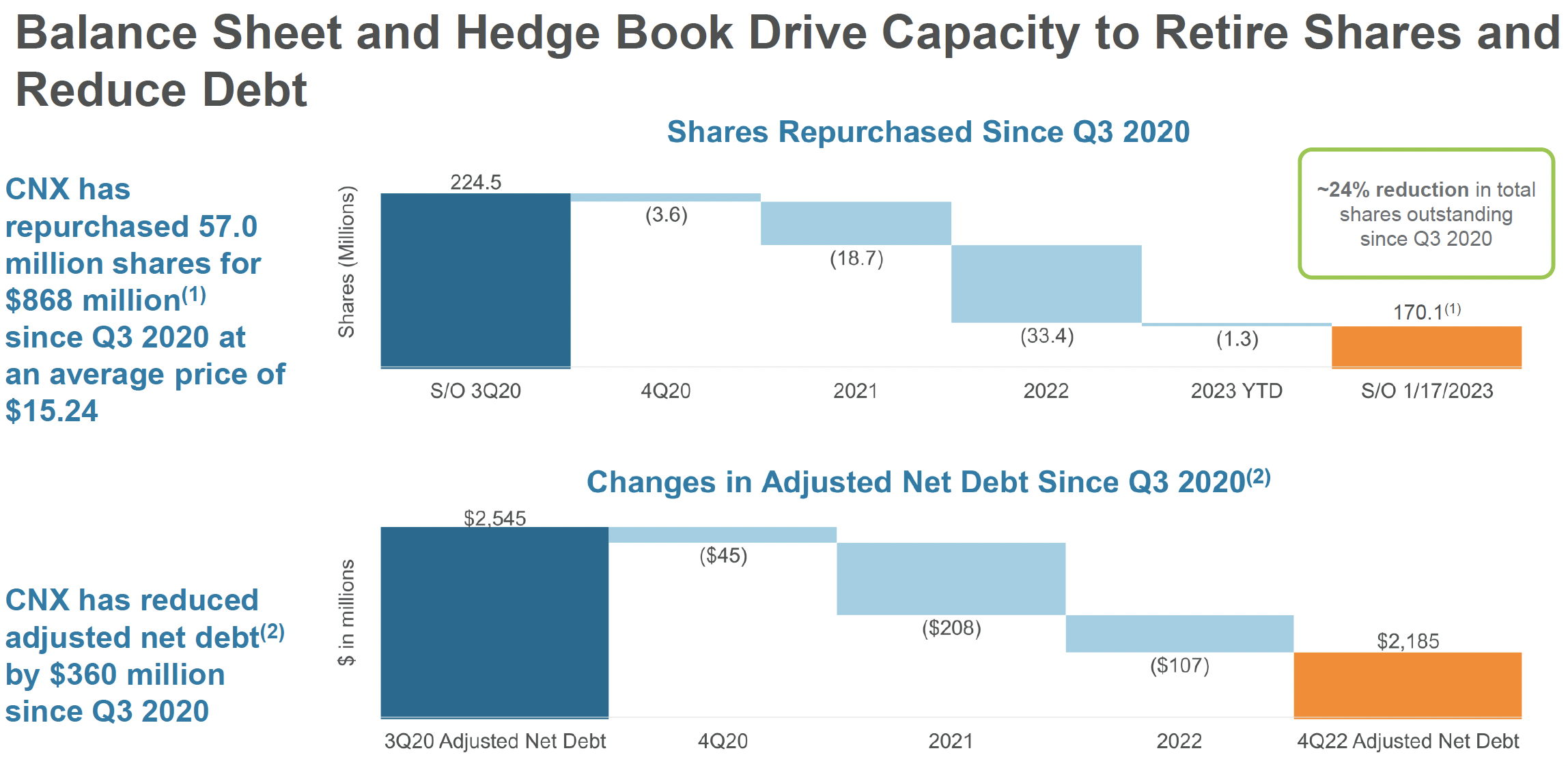 The company's balance sheet strength enables it to deliver on the recently released Appalachia First vision, which aligns with its SBM and Tangible, Impactful, Local ESG philosophy. Announced in December, the core principle of Appalachia First is straightforward: produce it here, use it here – first. ​
"The Appalachian region and its people should be the solution to deliver reliable and affordable energy – our region's abundant energy resources can and must be used more effectively to prioritize the improvement of the human condition, the environment, the nation, and the world," said CNX Chief Risk Officer Hayley Scott, echoing CEO Nick DeIuliis when announcing the Appalachia First vision. "In other words, put our local communities first and watch what happens."
Appalachia First guides CNX's efforts to invest in emerging technologies that can be commercialized to sustainably develop and locally utilize natural gas in the world's lowest-cost and lowest-emissions producing basin. The company's New Technologies segment is pushing the envelope in the area of methane capture and abatement, transportation fuel market development, and technology deployment which continues to differentiate the company and create a growth outlet for CNX as the world focuses on lower emissions, lower risk energy solutions.
The company's strategic vision also dictates a focus on its unique stacked pay position with the Marcellus and deep Utica formations and presents an unparalleled opportunity to lead the development of one of the world's most prolific natural gas basins. CNX is also leveraging the Utica's high-pressure characteristics to unlock opportunities for its New Technologies segment including the opportunity to create CNG, LNG, and electricity on pad.
Another pillar of CNX's capital program and investment in the region is its integrated upstream/midstream structure which allows it to make long-term investments that generate high rates of returns by creating the lowest all-in operating costs in the Appalachian basin.
"Taken together, these three investment buckets create a unique competitive moat and long-term recipe for success both for CNX shareholders and local communities," said CNX Chief Excellence Officer Yemi Akinkugbe. "Our vision is about empowering Appalachia to meaningfully address our region's most pressing socio-economic and environmental challenges and opportunities. We can use the natural gas produced and captured here to revitalize American manufacturing and lower energy costs for our neighbors while solving critical environmental and climate challenges."
Through CNX's Mentorship Academy, the company is creating hands-on, engaging learning opportunities for underserved rural and urban students across Western Pennsylvania to participate in the Appalachia First vision. Now in its second year, the Mentorship Academy shows students a career pathway outside of a traditional four-year college degree and opens doors for advancement through the skilled trades or even at CNX. CNX hired six students from the inaugural Mentorship Academy class last year.
"Our vision, community investments, stacked pay position, new technologies segment, vertical integration – it's all underpinned by the strength of the company and ability to generate value through any commodity environment," Akinkugbe said. "Our SBM and Appalachia First vision are integrated into every aspect of our decision-making, and we believe firmly in our differentiated approach to creating long-term value for all our stakeholders."
Related Stories: