Short Term Energy Outlook – Jan 2023
Oil, gasoline, and natural gas prices forecasted to fall in 2023 according to the U.S. Energy Information Administration.
January 10, 2023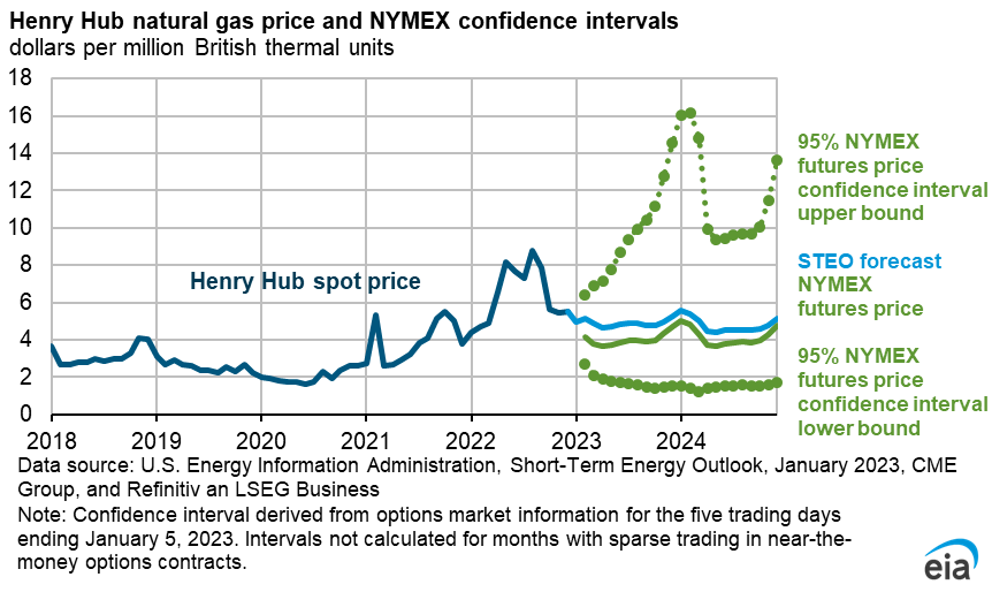 The EIA (Energy Information Administration) publishes regular forecasts on energy prices and volumes.
This data was originally published here.
U.S. GDP growth. Based on the S&P Global macroeconomic model, we expect U.S. real GDP to grow by 0.5% in 2023, with economic growth returning after contraction in the first quarter of 2023 (1Q23) and 2Q23. In 2024, real GDP grows by 1.9%, driven primarily by an increase in household consumption. Relatively flat economic growth in 2023 results in total U.S. energy consumption falling by 0.9% in our forecast. Total energy consumption then rises by 1.0% in 2024.
Global liquid fuels markets. Global production of liquid fuels in our forecast reaches an average of 102.8 million barrels per day (b/d) in 2024, up from 100.0 million b/d in 2022, driven by large growth in non-OPEC production. However, uncertainty over Russia's oil supply will persist, particularly in early 2023. We expect that global consumption of liquid fuels will increase from an average of 99.4 million b/d in 2022 to 102.2 million b/d in 2024. Ongoing concerns about global economic conditions as well as the easing COVID-19 restrictions in China, however, increase the uncertainty of the outcomes of our demand forecasts. With more global oil production than consumption in our forecast, we expect global oil inventories will increase over the next two years.
Crude oil prices. We forecast that the Brent crude oil price will average $83 per barrel (b) in 2023, down 18% from 2022, and continue to fall to $78/b in 2024 as global oil inventories build, putting downward pressure on crude oil prices.
Gasoline prices. Gasoline prices decline in our forecast as both wholesale refining margins and crude oil prices fall. We forecast U.S. gasoline refining margins will fall by 29% in 2023 and fall by 14% in 2024, leading to retail gasoline prices averaging around $3.30 per gallon (gal) in 2023 and $3.10/gal in 2024.
Diesel prices. We forecast that U.S. refining margins for diesel will fall by 20% in 2023 and by 38% in 2024. We expect retail diesel prices to average about $4.20/gal in 2023, down 16% from 2022. In 2024, we expect prices to continue to fall, and average near $3.70/gal.
Natural gas prices. The Henry Hub natural gas spot price averages slightly less than $5.00 per million British thermal units (MMBtu) in 2023 in our forecast—down close to 25% from last year—as domestic consumption declines and liquefied natural gas (LNG) exports remain relatively flat. In 2024, we expect natural gas prices to again average slightly below $5.00/MMBtu, as dry natural gas production outpaces an increase in LNG exports that results from rising LNG export capacity.
Natural gas production. We expect natural gas production in both the Permian and Haynesville regions to grow with the completion of pipeline infrastructure expansions in 2023 and 2024.
Electricity generation. We expect that the share of electricity generation from coal will fall from 20% in 2022 to 18% in 2023 and 17% in 2024. This decline will be partially offset by an increase in the forecast share of combined utility-scale solar and wind generation from 16% in 2023 to 18% in 2024.