Hart Energy's 2023 Meritorious Awards for Engineering Innovation Awarded
CNX honored in Hart Energy's 2023 Meritorious Awards for Engineering Innovation in the artificial lift category for work with AWS and Ambyint on plunger lifts.
April 14, 2023
HOUSTON, April 12, 2023 /PRNewswire/ -- Hart Energy editorial staff will announce the recipients of the 2023 Meritorious Awards for Engineering (MEA) Innovation in an April E&P e-newsletter and in Hart Energy's flagship Oil and Gas Investor magazine. MEA honors engineering excellence in 17 categories across the upstream energy industry and recognizes new products and technologies that demonstrate innovation in concept, design and application.
"E&P has consistently honored outstanding technical innovation that enables the industry to overcome massive challenges," said Jordan Blum, Editorial Director of Hart Energy. "We are thrilled to announce this year's top award recipients whose engineering developments are making tremendous impacts across the energy sector."
The expert panel of judges included engineers and scientists from operating and consulting companies around the globe. MEA entries are judged on their game-changing significance – both technically and economically. Judges were recused from categories in which they or their companies have a business interest.
The 2023 Honorees:
Artificial Lift: InfinityPL; Ambyint + AWS with CNX Resources
Carbon Management: Canrig nanO2 Fuel Enhancer; Nabors Industries
Digital Oil Field: Neuro Autonomous Solutions; SLB
Drill Bits: Aegis 3D-printed Armor; SLB
Drilling Fluids/Stimulation: AquaShear Drilling Fluids Mixer; Johnson Specialty Tools
Drilling Systems: GeoSphere 360; SLB
Exploration/Geoscience: BlendSeis: Advanced Seismic Data Acquisition; Saudi Aramco
Floating Systems and Rigs: MPD-Ready Jack-Up Riser; Oil States Industries
Formation Evaluation: StrataStar® Deep Azimuthal Resistivity Service; Halliburton
HSE: Digital Gas Monitoring Ecosystem; Shepherd Safety Systems
Hydraulic Fracturing/Pressure: ClearVision™; EV
IOR/EOR/Remediation: Welltec Puncher 218; Welltec
Machine Learning and AI: LOGIX® Autonomous Drilling Platform's Auto Steer Module; Halliburton
Non-Fracturing Completions: Fuzion®-EH electro-hydraulic downhole wet-mate connector; Halliburton
Onshore Rigs: FlexRig Flex3 Walking Rig Million Pound Mast; Helmerich & Payne
Subsea Systems: REACH Wireline-retrievable Safety Valve; Baker Hughes
Water Management: Zero Liquid Discharge (ZLD) Produced Water Management Project; Saudi Aramco
Deeper Look
Artificial Lift: InfinityPL; Ambyint + AWS with CNX Resources
Category: Artificial Lift
Product: InfinityPL
Company: Ambyint + AWS with CNX Resources
Ambyint's InfinityPL, which runs on Amazon Web Services (AWS), helps increase production in wells. The data-driven, cloud-based solution combines advanced physics and subject matter expertise with artificial intelligence (AI) to automate operations and production optimization workflows.
The platform helps operators find setpoints likely to increase productivity and avoid unnecessary downtime across all types of artificial lift, including electric submersible pumps (ESP), plunger lift, rod lift and gas lift. While plunger lift systems are mechanically simple, they produce vast amounts of data that can be leveraged to optimize performance. Data analysis required to uncover insights can be time-consuming and manual.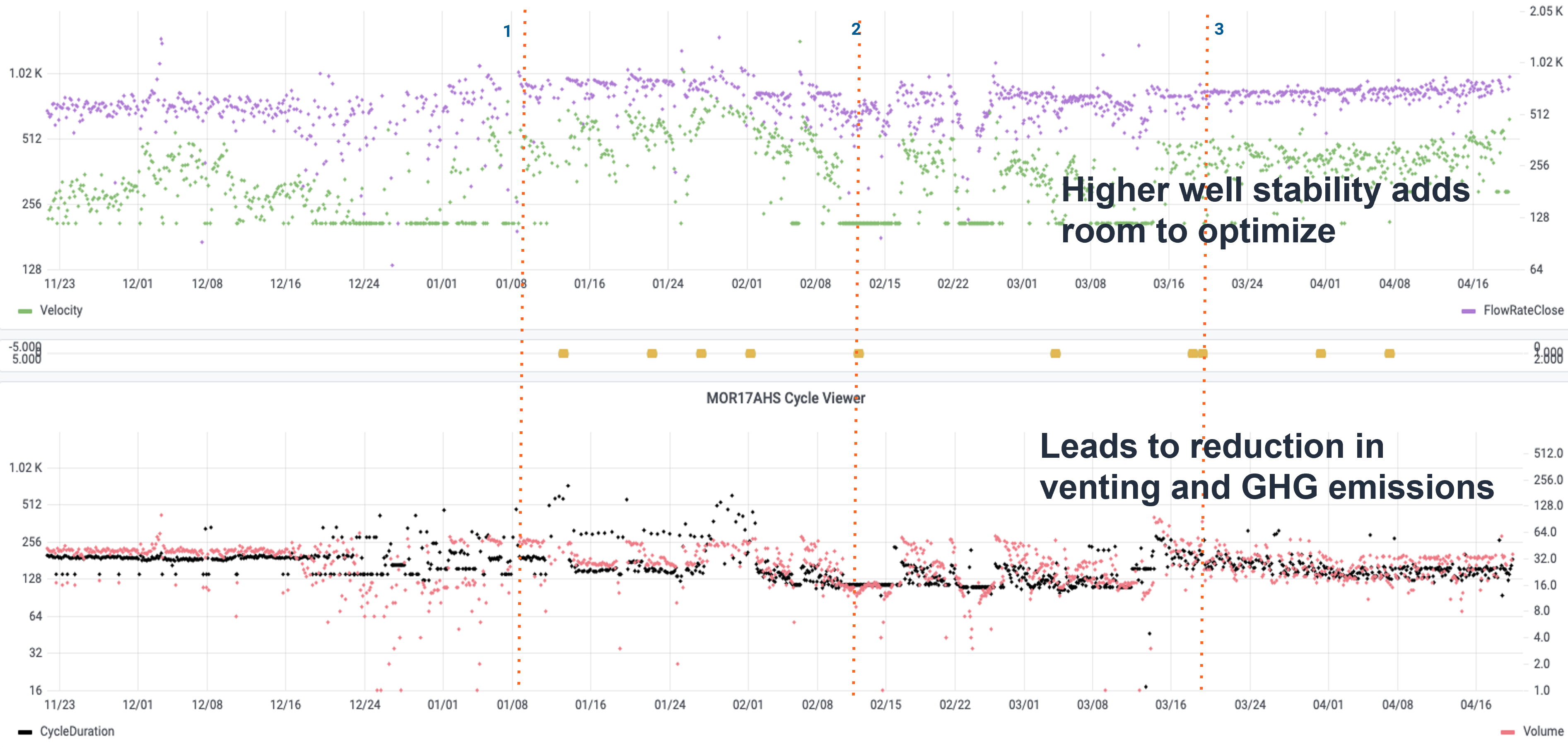 CNX Resources sought to optimize production and reduce the number of liquid loading events across its horizontal Marcellus Shale plunger lift wells. The CNX operations team vented wells regularly to remediate liquid loading, which led to increased emissions and reduced productivity and efficiency. To overcome these challenges, CNX worked with Ambyint and AWS to deploy a solution that optimized well productivity through improved analytics and autonomous management.
Ambyint deployed InfinityPL to CNX's plunger lift wells, leveraging the AWS cloud environment for data integrations with CNX's existing SCADA and production accounting systems. Through automation and proactive management, CNX was able to improve well stability, which led to opportunities for performance optimization, and a reduction in venting events and greenhouse-gas emissions by 48%. 
Predictive maintenance and autonomous management of control system settings also resulted in a 4% increase in gas production. Based on the success of the 26 pilot wells, CNX expanded the work to an additional 120 wells.