COMMUNITY COLLEGE OF ALLEGHENY COUNTY AND CNX FOUNDATION'S MENTORSHIP ACADEMY JOINTLY ANNOUNCE YOUTH EDUCATION PARTNERSHIP
Joint Initiative Established to Bring More Regional Industry Career Opportunities to Youth from Underserved Communities in Pittsburgh Region and Beyond
October 7, 2022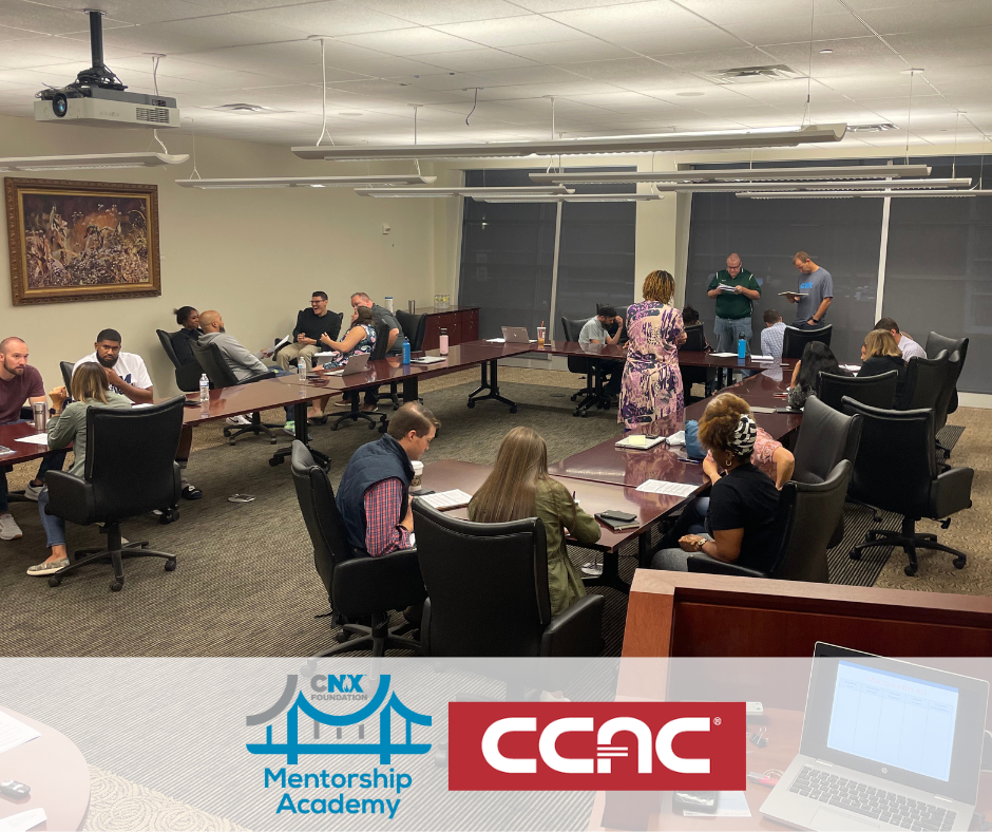 Mentors Prepare for the Launch of the 2022/2023 Mentorship Academy Class at CNX Resources HQ
PITTSBURGH, October 7, 2022 – Kicking off the second year of Appalachian Basin's premier youth education program for 11th and 12th graders from rural and urban underserved communities, CNX Foundation's Mentorship Academy and the Community College of Allegheny County (CCAC) are proud to jointly announce a partnership to bring even more regional industry career opportunities to participants of the program.
Through services provided by CCAC, which includes presentations and demonstrations by faculty and staff, hands-on experiences with equipment and tools, as well as discussions about educational and career pathways, those enrolled in the 2022/2023 Mentorship Academy will have access to training that will support careers in automotive, aviation, electrical, healthcare, HVAC, welding, and more.
At the completion of the program, some students will receive accreditation to begin working in their desired field, creating an unparalleled fast-track to a promising career. For students who complete the Mentorship Academy and choose to continue their education at CCAC, tuition costs will be covered through a CNX Foundation scholarship.
"At CCAC, we work to align our programs with regional and national priorities while driving economic and social mobility for all," said Jamie McMahon, CEO of the CCAC Educational Foundation. "This partnership between the CCAC Educational Foundation and the CNX Foundation provides an exciting new opportunity for the college to engage with an innovative and forward-thinking partner in the community."
The Mentorship Academy is an initiative of CNX Foundation and part of CNX's commitment to investing in the local community. The Mentorship Academy prepares high school students from economically challenged rural and urban communities to be impactful citizens, workers and family members through transformative learning, community engagement and leadership development. On behalf of the Mentorship Academy, CNX Foundation donated more than $30,000 donation to CCAC to support programming.
"Through our tangible, impactful and local commitment, the CNX Foundation's Mentorship Academy provides young adults with a bridge to family-sustaining careers," said Yemi Akinkugbe, Chief Excellence Office of CNX Resources. "We are grateful to partner with CCAC to expose students to a variety of career opportunities, and further help them develop skills and a network to grow their confidence and help them realize their full potential."
The second year of the Mentorship Academy officially began on September 22, 2022, when a group of approximately 30 young men arrived on the CCAC West Hills Center campus to embark upon their educational journey. Then, on September 26, 2022, approximately 20 young women enrolled in the program officially began their journey as well. Students in this year's class come from a variety of schools in the region which includes representation from Washington, Allegheny, Indiana, Westmoreland and Beaver County. Both days kicked off with welcoming remarks and introductions and featured a variety of industry-related workshops. The day wrapped with a leadership working session.
The impact of the Mentorship Academy program is far-reaching. High school students can gain experience in a college environment, as well as a pathway to a lifelong career. ​ Future employers receive access to a diverse, innovative and previously untapped talent pipeline of skilled workers. The economic health of the region's communities also improves as Mentorship Academy students are provided with new entry points into corporate careers that were previously inaccessible.
Since just last year, the Mentorship Academy program has grown by more than 70%, with 25 more students enrolled in the program compared to the year prior. Mentors involved in the program also increased by more than 300% and include representatives from CNX Resources and partner companies like Evolution Well Services, Eaton and Deepwell Services.
If you know of a high school student who is focused, hard-working and wants to consider career options after high school graduation, click here to submit an application for the 2023/2024 Mentorship Academy class.
# # #
About CNX Foundation
The CNX Foundation is a registered 501c(3) philanthropic organization that invests tangibly, impactfully, and locally, targeting urban and rural communities within the Appalachian Basin that face socio-economic challenges. With a commitment of $30 million over six years and a focus on underserved populations, the CNX Foundation seeks to set a new standard for how corporations engage with their communities. Additional information, including funding criteria and grant application details can be found atwww.cnx.com/foundation.
About CCAC
Since its founding in 1966, CCAC has flourished, becoming the educational powerhouse it is today—a nationally renowned two-year college dedicated to serving all members of the community. From groundbreaking student success initiatives to top-ranked academic and career-based programs, CCAC continues to be the college of choice for nearly one out of every two adults in the Greater Pittsburgh metropolitan region.
Every year, more than 30,000 students enroll at CCAC, taking advantage of nearly 150 degree, certificate, diploma and transfer programs as well as hundreds of noncredit and workforce development courses. Comprising four campuses and three neighborhood centers, as well as other off-site locations, CCAC is honored to have one of the largest veteran student populations in the state and takes pride in ranking among the nation's top community colleges for the number of individuals graduating in nursing and other health-related professions.
CCAC graduates have transferred to the nation's most prestigious colleges and universities, have obtained the most academically challenging and competitive degrees and can be found at leading companies, organizations and institutions throughout the country. CCAC alumni are actively engaged in every sector of society, providing leadership to scores of economic, scientific, civic and philanthropic entities both in the Pittsburgh region and around the world. Visit ccac.edu to learn more.
Contacts:
Brian Aiello ​ ​ ​ ​ ​ ​ ​
CNX Resources/CNX Foundation ​ ​ ​ ​
[email protected] ​ ​ ​ ​ ​ ​
724.485.3078 ​ ​ ​ ​ ​ ​
Dena Rose Buzila
CCAC
412.237.6531