CNX Foundation Commits $1 Million to Penn Highlands Mon Valley Hospital for Substance Recovery Unit
Funding Supports Construction and Opening of Unit Dedicated to Substance Use Disorder Recovery
May 3, 2023
Contact:
Brian Aiello
(724) 485-3078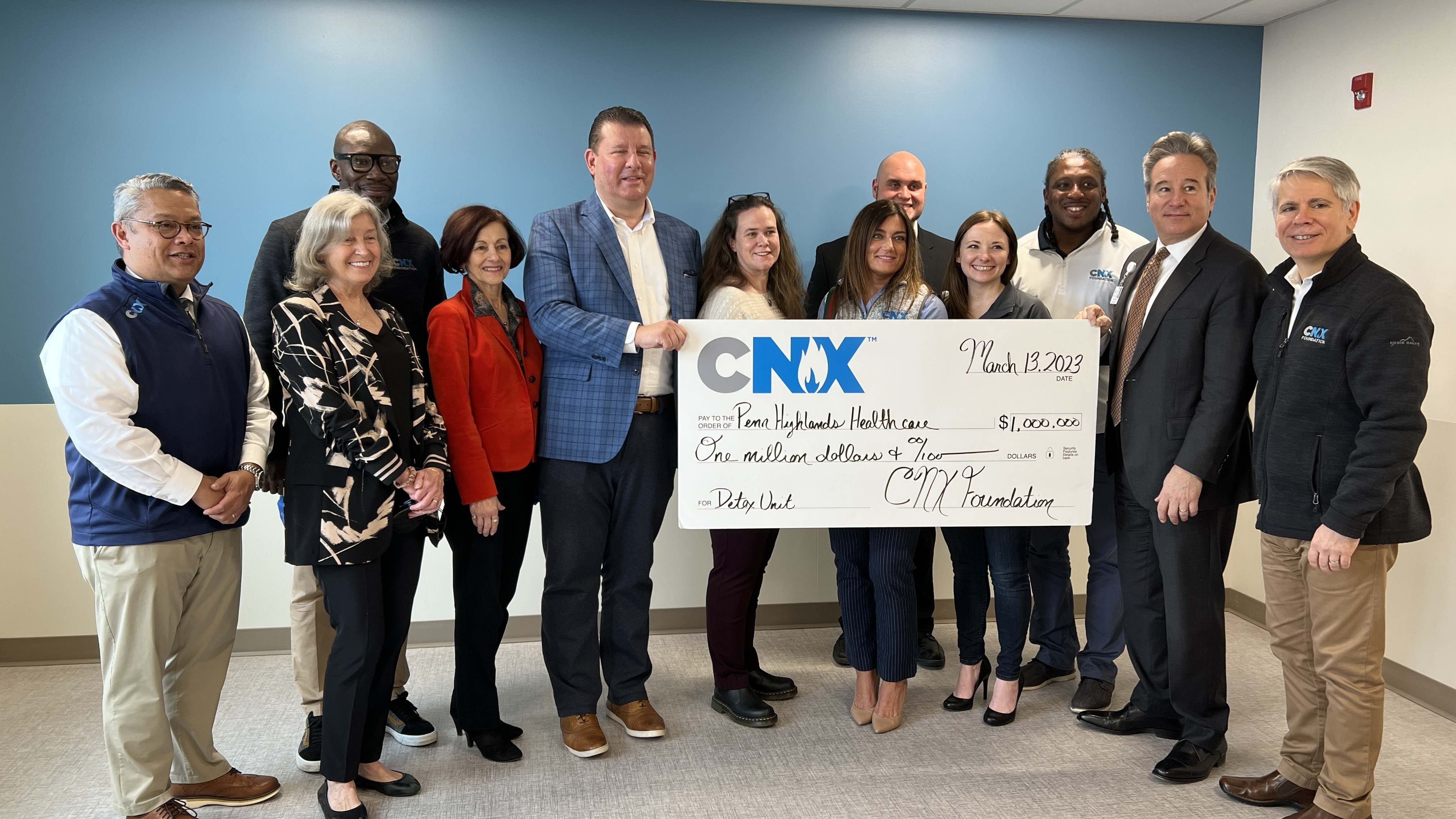 PITTSBURGH, May 3, 2023 — In order to ease the way for those beginning recovery from substance use disorder, CNX Foundation committed $1 million to Penn Highlands Mon Valley for an inpatient unit where patients can take the first steps toward healing. Located in the heart of rural southwestern Pennsylvania, this facility will be the first of its kind to provide this type of recovery care to these communities.
"Substance use disorder, and in particular the opioid epidemic, crosses all socioeconomic barriers - it has harmed rural and urban communities alike across Appalachia. We are investing this money because we believe assisting people in their recovery and helping them return to their families, workplaces and neighborhoods will have a positive impact on communities across the region," said Nick DeIuliis, President and Chief Executive Officer, CNX Resources Corporation. 
As the first steps in a person's recovery, the substance recovery unit will have physicians and nursing staff available around the clock. Therapists will be available to talk with patients as they begin working through their emotions related to detoxification and recovery. With 14 private inpatient rooms including two ADA rooms and two isolation/negative-pressure rooms, patients can begin the recovery process in a safe, supportive environment. The unit also includes 24-hour access to the Emergency Department, Cardiac Care Unit, Behavioral Health Unit, Medical Imaging and the Lab for when immediate care is needed. 
According to Mimi Falbo, RN, managing consultant for the project since its inception and former CEO of UPMC Braddock Hospital, with over 30 years of experience as a behavioral health professional, the grant from CNX Foundation supported the construction's completion and helped provide the matching funds. Congressman Guy Reschenthaler helped secure federal grant dollars and the state Office of Budget awarded RACP dollars to the Redevelopment Authority of Washington County to benefit Penn Highlands Mon Valley.
"We wanted everything, from the design to the decor, to convey respect and hope, which are two elements people with this illness desperately need," said Falbo. 
Penn Highlands Mon Valley is working closely with the Mon Valley Opioid Coalition to ensure each patient who graduates from the substance recovery unit has a longer-term rehabilitation facility in the next step of their journey. 
According to DeIuliis, this commitment embodies CNX Resources' Appalachia First vision. "We believe this support will make a tangible, impactful and local difference in southwest Pennsylvania. As an organization, we are dedicated to tackling challenging problems in the communities we call home. A partnership with the best in the business, which is Penn Highlands Mon Valley, perfectly represents what we mean when we say 'Appalachia First,'" said DeIuliis. 
"Having the support of an organization that understands how important it is to serve the community is invaluable," said Peter Adamo, Regional Market President Southwestern Region for Penn Highlands. "The opioid crisis affects not only the patient, but those we consider 'extended patients' — their family members. If we do not turn this crisis around, it will continue to devastate entire communities across our region. I am so appreciative of the CNX Foundation and I am looking forward to our continued relationship." 
Construction on the unit is currently underway, and expected to be completed in late spring. Penn Highlands Mon Valley administration is actively recruiting staff for the unit. A ribbon cutting ceremony will be held prior to patient admission.
About CNX Foundation 
CNX Foundation is dedicated year-round to supporting organizations that embrace opportunities to make a positive impact in Appalachian communities. To learn more about the Foundation, visit www.cnx.com/about-us/cnx-foundation. 
About Penn Highlands Healthcare
Penn Highlands Healthcare was officially formed in 2011, and is comprised of eight hospitals – Penn Highlands Brookville, Penn Highlands Clearfield, Penn Highlands Connellsville, Penn Highlands DuBois, Penn Highlands Elk, Penn Highlands Huntingdon, Penn Highlands Mon Valley, Penn Highlands Tyrone — that have served area communities for the past 100+ years. Penn Highlands State College, a new, state-of-the-art, technically advanced hospital, is slated to open in 2024. The health system's business continuum also includes a home care agency, long-term care facilities and residential senior living communities, as well as durable medical equipment companies and retail pharmacies.
Penn Highlands Healthcare has evolved into an organization with 6,651 workers in 150+ locations throughout 26 counties in Pennsylvania that include community medical buildings, outpatient facilities, surgery centers and physician practices. The facilities have a total of 1,498 inpatient, skilled nursing and personal care beds. The system, which has 827 physicians and 405 advanced practice providers on staff, offers a wide range of care and treatments with specialty units for cancer, cardiovascular/thoracic, neurosurgery, pulmonology, neonatal and high-risk pregnancy patients. Being focused on what is important – patients and families – makes Penn Highlands Healthcare the best choice in the region.