CNX Foundation Changes Lives with $500,000 Grant to Blueprints
The funding will support Blueprint's 2-Generation Whole Family Strategy to help families gain economic independence
January 30, 2023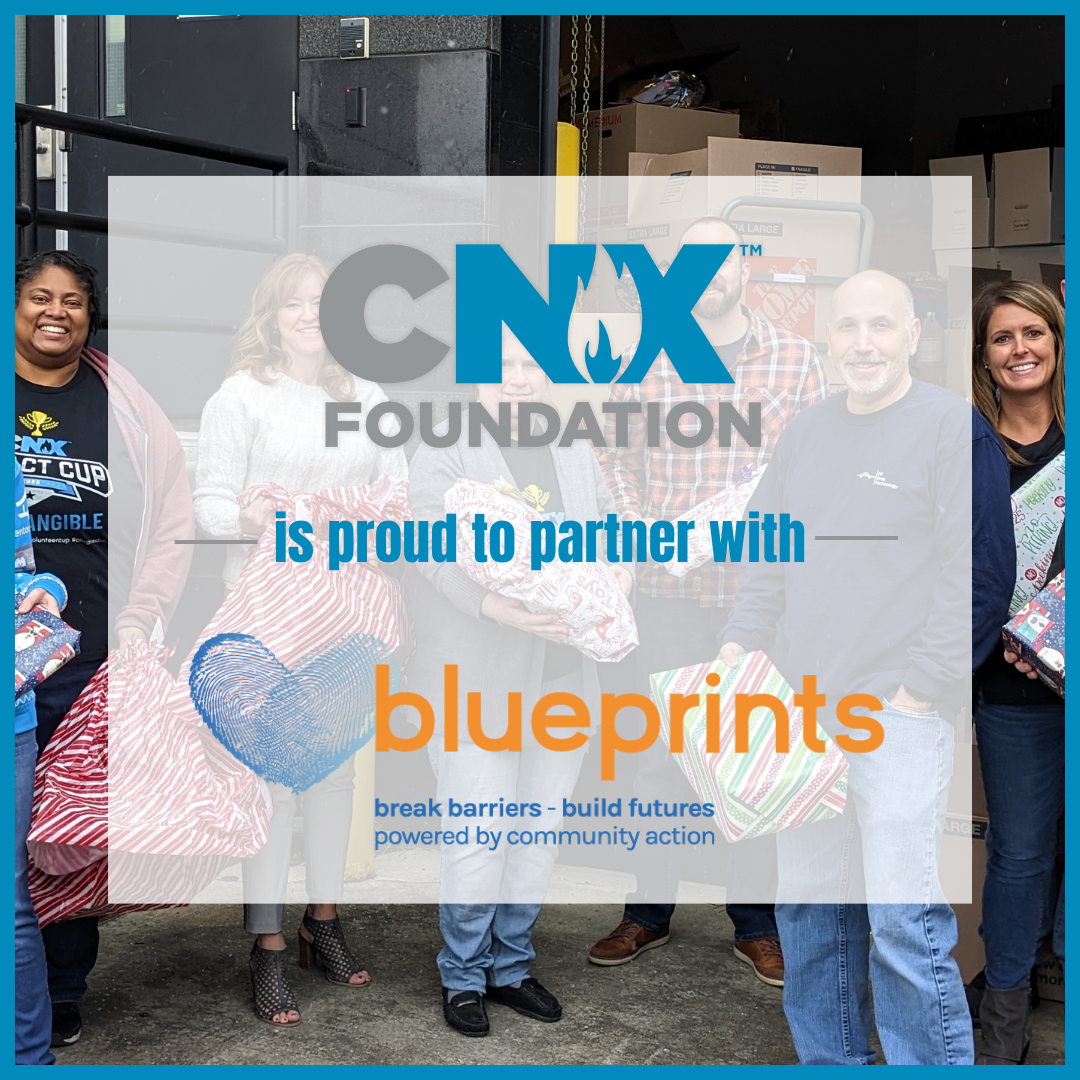 PITTSBURGH - Jan. 30, 2023 - CNX Foundation is awarding a $500,000 grant to Blueprints in support of its 2-Generation, or Whole Family Approach strategy. Distributed over the course of the next three years, uplifting 100 families a year, the funding will support a family centered coaching program designed to help economically insecure families reach financial stability, explore postsecondary education, develop occupational goals and secure stable housing.
"Over the last year, CNX Foundation has been a staunch supporter of the work we do at Blueprints," said Darlene J. Bigler, Blueprints CEO. "Previous funding from the Foundation allowed us to address acute needs like providing toys for children during the holiday season. With this grant, CNX Foundation is joining us in taking a long-term approach, addressing some of the systemic needs people require to become financially stable."
Serving southwestern Pennsylvania and West Virginia, Blueprints' mission is to serve as the catalyst to mobilize the resources of the entire community, enabling families and individuals to attain the skills, knowledge, motivation and opportunities to become self-sufficient. Founded in the belief that an engaged community and responsible planning can eliminate poverty and create a strong, healthy economy for everyone, Blueprints' 2-Generation Approach is dedicated to disrupting the cycle of poverty and giving families the tools they need to reach their goals.
"This funding falls directly in line with CNX's Appalachia First vision," said Alex J. Reyes, Executive Vice President, General Counsel and Corporate Secretary of CNX Resources Corporation. "We see a future that embraces Appalachia's talent, resources and opportunities to transform our region, our country and the world. One of the first steps toward achieving this vision is investing in the people and communities across the region, and relationships with organizations like Blueprints will help move our goals forward."
The 2-Generation Approach was created, in part, to fill the gap left by state and federal programs, creatively tackling the complex issues surrounding poverty and the traditional efforts to combat it.
"CNX Foundation was designed to supplement governmental gaps and address key issues within the key pillars we support. The work Blueprints does touches on several of our pillars," said Reyes. "Food insecurity, children's health and wellness, career training – they all interrelate when it comes to economic security. We were particularly excited to support the 2-Generation Approach because of its holistic, visionary approach to improving lives in our region."
Blueprint's 2-Generation, or Whole Family Approach Strategy is designed to put whole families at the center of its services, and on the path to economic security. By planning and delivering services children and adults at the same time, the strategy serves families who are committed to working, over time, to succeed at educational, career, financial and family wellness goals. Blueprints strives for specific outcomes, including making sure children are school ready and supported through their public school years, adults set career pathways, and financial fitness for the whole family.
###
About CNX Foundation
The CNX Foundation is a registered 501c(3) philanthropic organization that invests tangibly, impactfully, and locally, targeting urban and rural communities within the Appalachian Basin that face socio-economic challenges. With a commitment of $30 million over six years and a focus on underserved populations, the CNX Foundation seeks to set a new standard for how corporations engage with their communities. Additional information, including funding criteria and grant application details can be found at www.cnx.com/foundation.
Contact: 
Brian Aiello ​ ​ ​ ​ ​ ​ ​ ​ ​ ​ ​
724-485-3078 ​ ​
About Blueprints 
Blueprints is a change agency that shapes futures by equipping and educating people to improve their lives. Independence is gained when we break barriers and build futures. We are a non-profit organization that has been serving our area since 1965. Originally Community Action Southwest, Blueprints was founded by a group of community leaders, the initial focus of the agency was to mobilize public and private resources to deal with the causes of poverty, not just its impact.
More than 50 years later, our mission remains much the same. We are still committed to solving poverty, but we aim to help our clients achieve stability. By focusing on the mind, home, health and wallet, we help and encourage people to meet their future needs independently.
Today, Blueprints operates more than 50 programs serving more than 20,000 people annually in Washington and Greene counties of Pennsylvania and throughout West Virginia. We serve our neighbors from cradle to gray. We provide assistance at all income levels. We co-design solutions that encourage self-made stability.
Contact: 
Darlene Bigler ​ ​ ​ ​ ​ ​ ​ ​ ​ ​ ​
(724) 225-9550, ext. 402
Jeffrey Fondelier ​ ​ ​ ​ ​ ​ ​ ​ ​ ​
(724) 225-9550, ext. 407