CNX Foundation Announces Partnership with Domestic Violence Services of Southwestern Pennsylvania to Help Put an End to Domestic Violence in Region
October 13, 2022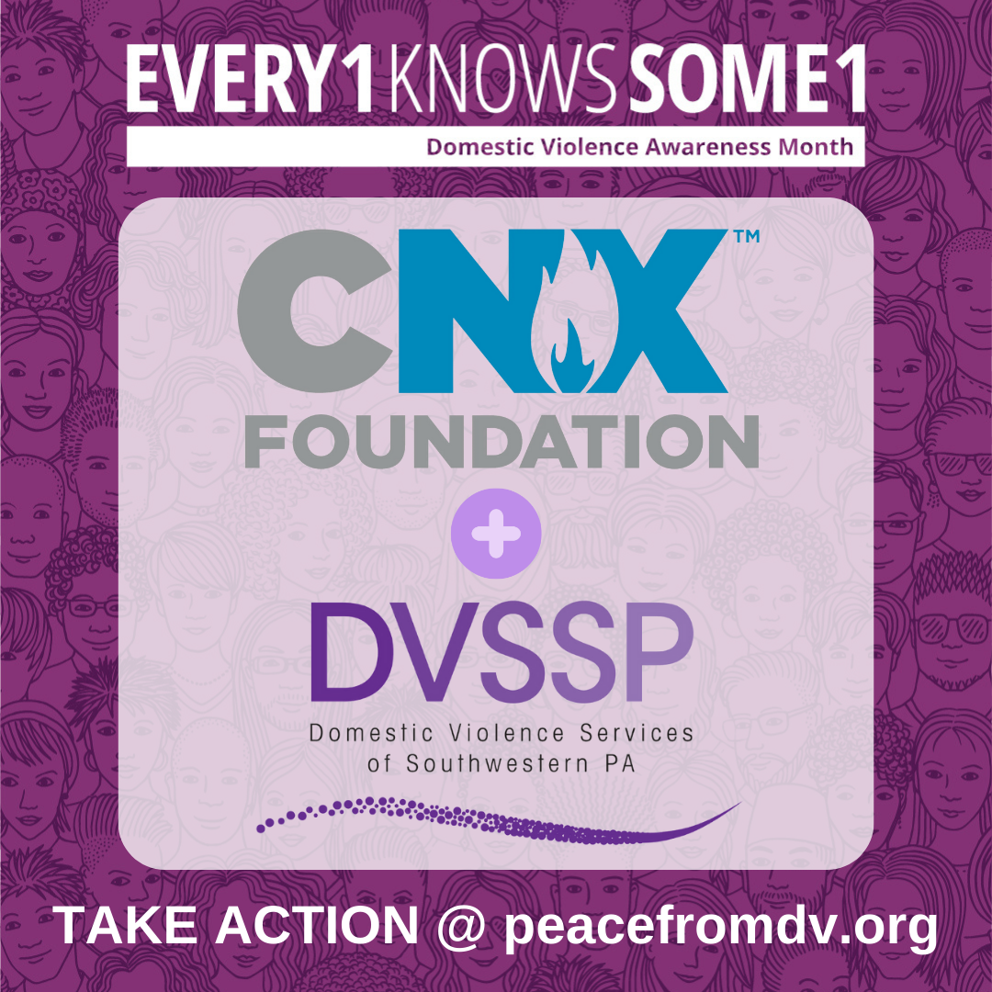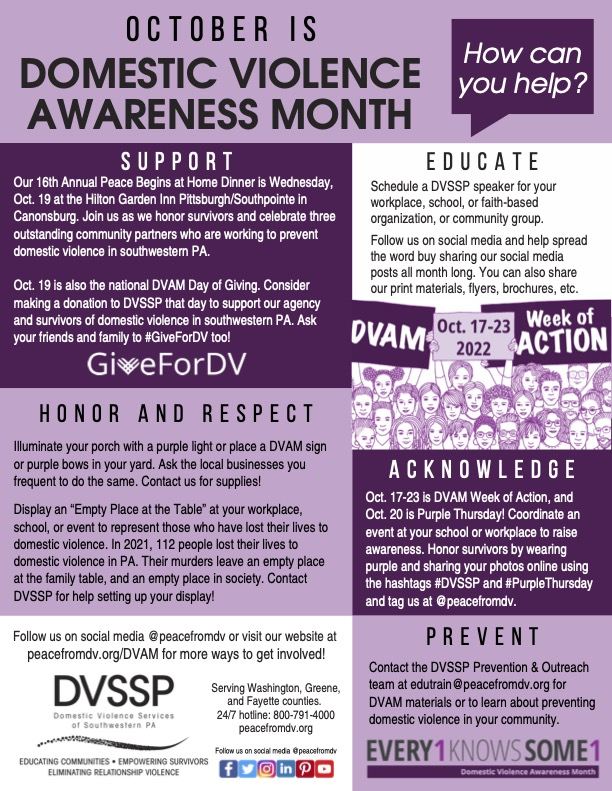 PITTSBURGH, PA (October 13, 2022) – CNX Foundation has partnered with Domestic Violence Services of Southwestern Pennsylvania (DVSSP) to provide $75,000 in grant support for prevention programming in high schools throughout Washington, Greene, and Fayette counties. A comprehensive, 7-dose program, called BringLove365, is designed to help teens develop goal setting, communication, and creative skills in addition to cultivating healthy and safe relationships.
"CNX Foundation is proud to step forward and partner with organizations in the region to help put an end to domestic violence," said Alex Reyes, CNX Resources Executive Vice President and General Counsel. "We look forward to supporting DVSSP to enhance confidence, skills and knowledge of students in order to build safe and healthy relationships in all aspects of their lives." 
Through its curriculum, DVSSP aims to empower students and victims by providing advocacy training among its safe and effective services. However, recent state and federal government funding changes threatened DVSSP's ability to defend social change toward domestic violence. 
"CNX Foundation's support will help us to continue educating our youth to live healthy, violence-free lives," said Alexandra Brooks, Director of Prevention of DVSSP. "Together, we will work to make headway in local schools thanks to BringLove365, our violence prevention program. This initiative goes beyond basic education. It provides students with foundational knowledge of how to prevent something very serious from happening, while also encouraging them to create an open dialogue for help."
While preparing for its initial grant cycle, DVSSP contacted Betsie Trew, President and CEO of Washington County Community Foundation (WCCF), who helped to introduce the partnership to CNX Foundation. Inspired by BringLove365, WCCF pledged an additional $50,000.
"At the WCCF, we subscribe fully to the notion that 'an ounce of prevention is worth a pound of cure,' and so when we learned that the school-based prevention program of DVSSP was in jeopardy due to governmental funding cuts, we knew we had to help," said Betsie Trew, President and CEO of Washington County Community Foundation. "Knowing that our $50,000 grant would help to leverage an even greater contribution from the CNX Foundation was an added incentive for us to help prevent domestic violence from occurring in our community."
DVSSP's mission is incredibly impactful for Washington County Commissioner Nick Sherman who previously served 20 years as a domestic abuse counselor and is a state-certified domestic abuse victim advocate.
"I applaud CNX Foundation for stepping up and contributing toward DVSSP's programming," Sherman said. "CNX Foundation recognizes how imperative DVSSP's mission is, especially since this issue continues to plague our local communities. DVSSP's program is essential and relevant for educating young people about healthy relationships." 
The partnership between DVSSP and CNX Foundation will pave the way toward creating safer communities for its neighbors in the Appalachian region.
"We are so grateful for CNX Foundation's contribution," said Lisa Hannum, Chief Executive Officer of DVSSP. "We look forward to doing great work with CNX Foundation."
CNX Foundation and DVSSP's partnership does not stop at prevention programming. In light of Domestic Violence Awareness Month, CNX Foundation is committed to enhancing visibility of DVSSP's important work. Throughout October, DVSSP will share content on its social media channels to help raise awareness and educate the public on the complex dynamics of domestic violence.
To show your support for National Domestic Violence Awareness Month, here are some ways the community can get involved: 
October 17-23 is Domestic Violence Awareness Month's Week of Action. Stay engaged by participating in the following events:

October 17: Media Monday
October 18: Twitter Chat Tuesday
October 19: DVAM Day of Giving
October 20: Purple Thursday
October 21: Pay It Forward Friday
October 22: Speak Up Saturday
October 23: Support Survivors Sunday

Follow DVSSP on Instagram, Facebook or Twitter (@peacefromdv) for more information about each day.

October 19 is the national DVAM Day of Giving. Consider making a donation to DVSSP that day to support the agency and survivors of domestic violence in southwestern PA. Ask friends and family to #GiveForDV.
Join DVSSP for the 16th Annual Peace Begins at Home Dinner Wednesday, October 19 at the Hilton Garden Inn Pittsburgh/Southpointe in Canonsburg. 
Schedule a DVSSP speaker for your workplace, school, or faith-based organization, or community group.
Illuminate your porch with a purple light or place a DVAM sign or purple bows in your yard. Ask the local businesses you frequent to do the same. Contact DVSSP for supplies.
Follow DVSSP on social media and help spread the word by sharing our social media posts all month long. Followers can also share our print materials, flyers, brochures, etc.
For information on honoring Domestic Violence Awareness Month, follow @peacefromdv on Instagram, Facebook, Twitter and LinkedIn or visit www.peacefromdv.org. 
If you or a loved one is experiencing domestic violence or abuse, please contact DVSSP's 24/7 hotline: 800-791-4000.
###
About CNX Foundation
The CNX Foundation is a registered 501c(3) philanthropic organization that invests tangibly, impactfully, and locally, targeting urban and rural communities within the Appalachian Basin that face socio-economic challenges. With a commitment of $30 million over six years and a focus on underserved populations, the CNX Foundation seeks to set a new standard for how corporations engage with their communities. Additional information, including funding criteria and grant application details can be found at www.cnx.com/foundation.
About Domestic Violence Services of Southwestern Pennsylvania (DVSSP)
The mission of Domestic Violence Services of Southwestern Pennsylvania is to increase awareness of domestic violence and its effect on the community, to empower those victimized by providing advocacy and safe and effective services, and to work for social change designed to eliminate domestic violence. Learn more at peacefromdv.org.
Contacts: 
Brian Aiello ​ ​ ​ ​ ​ ​ ​
CNX Resources/CNX Foundation ​ ​ ​ ​
724-485-3078 ​ ​ ​ ​ ​ ​ ​
Leslie Orbin
DVSSP
724.223.5477 ext. 16