ARCH2 Advances a "Whole New Energy Economy," Touts Energy Secretary Granholm
$1 Billion investment advances clean hydrogen while bringing jobs & economic development to Appalachia. Read what people are saying about hydrogen hubs and ARCH2.
October 19, 2023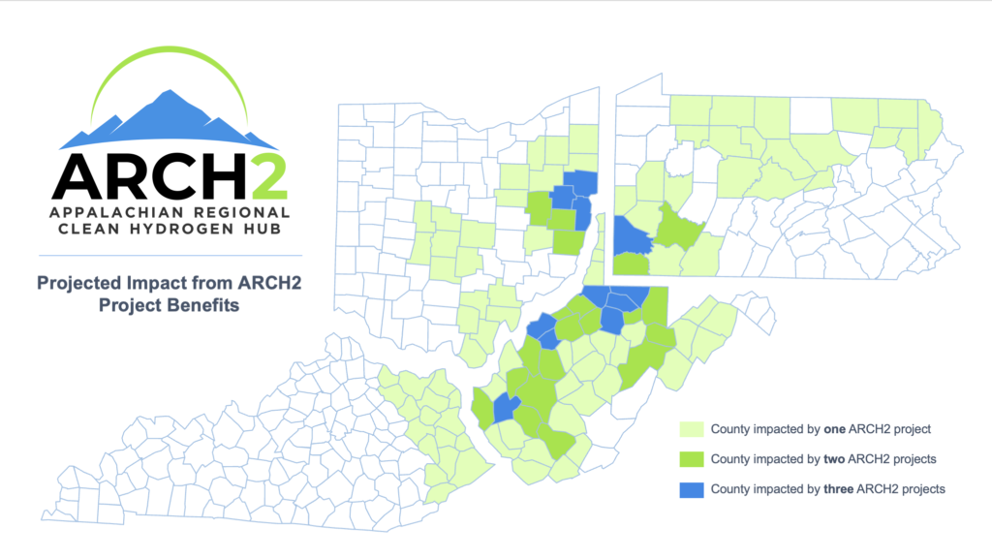 By Positive Energy Hub Staff
America has set aggressive, near-term goals to achieve economy-wide greenhouse gas emissions reductions, and the Appalachian region is at the tip of the spear helping to meet these ambitious targets using locally-sourced natural gas for emissions-free hydrogen energy development.
Last week, the Biden Administration announced that the Appalachian Regional Clean Hydrogen Hub (ARCH2) is one of seven projects nationwide receiving nearly $1 billion from the U.S. Department of Energy (DOE) to advance regional hydrogen and related carbon storage and infrastructure networks in the U.S.
"You here, in West Virginia, will be leading the nation in this new clean energy world. This is creating a whole new energy economy," U.S. DOE Secretary Jennifer Granholm said Monday.
An anchor of that new energy economy is the Adams Fork Energy clean ammonia facility CNX is developing on a reclaimed coal mine in rural Mingo County, which will create thousands of jobs and inject millions into the underserved community. And, by sourcing low carbon intensity Appalachian natural gas as feedstock and installing carbon capture technology, Adams Fork Energy will have an ultra-low carbon intensity profile while adding to our domestic ammonia supply.
"This hub is going to be reducing the greatest amount of carbon pollution from the atmosphere of any of the hubs—that is an amazing thing," Secretary Granholm continued.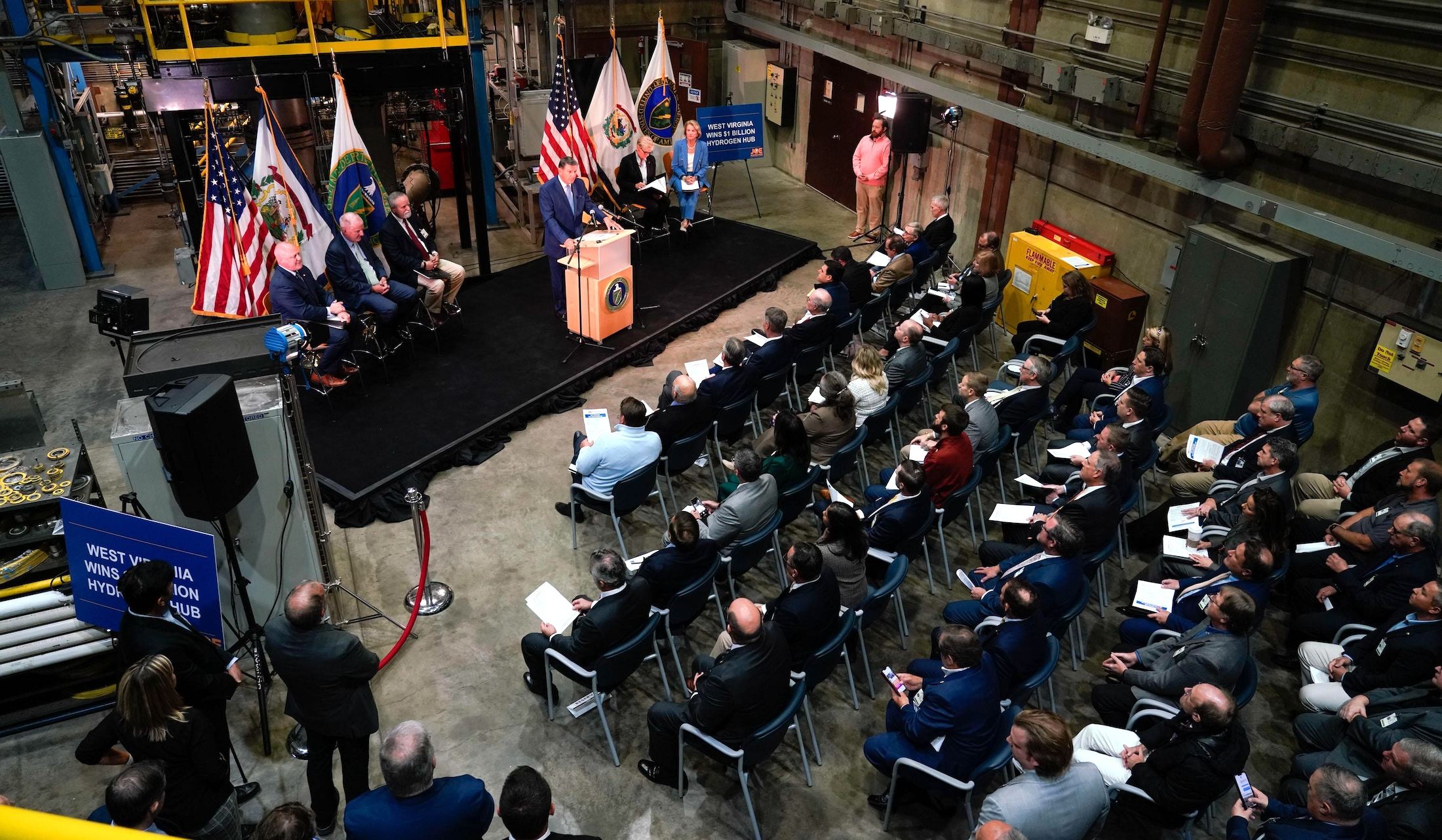 In fact, CNX's low emission natural gas is a huge part of how ARCH2 expects to reduce 9 million metric tons (MT) of CO2e annually. Combining process innovation and new technologies, we're at the forefront of developing long-term energy and technology solutions for our region and leading the area to a more sustainable future.
"The energy we're going to produce for this great country, in the cleanest form we possibly can, will have the horsepower to run this country," Senator Joe Manchin said. "It'll run the planes and trains and everything else in between. It can do it all, and we have it right here in our backyard."
Natural gas-fueled hydrogen is the most economically viable and sustainable way to reduce the environmental footprint of high-emitting sectors ranging from aviation and mass transit to local shipping and manufacturing. But clear guidance under the hydrogen production tax credit is eminent if we aim to truly incentivize low carbon intensity hydrogen development, reduce emissions, enhance U.S. energy security, and create jobs and economic activity in energy communities.
"With today's announcement, the U.S. Department of Energy has recognized the vital importance of ARCH2 and Adams Fork in improving our nation's energy security…The Adams Fork project, and other such potential projects throughout the broader Appalachian region, will substantially benefit from implementation of 45V that adheres to the original intent of the law," said CNX President and CEO Nick Deiuliis of the announcement.
"This project squarely aligns with those objectives," Deiuliis continued.
More of what they're saying:
Flandreau Santee Sioux Tribe President Anthony Reider
"The advancement of this project benefits the tribe economically, and the use of innovative technology presents a viable source of domestic energy independence for the United States. The Flandreau Santee Sioux Tribe is excited about this project and is confident that it will be a huge component of the clean energy economy. Our participation will present unique opportunities for federal funding for the project and the Tribe will benefit from educational opportunities afforded by the project's sponsors to our Tribal members."
"I'm incredibly proud that the Adams Fork Energy plant will become the largest clean ammonia facility in the country. I'm confident they will be a champion in this emerging field and help our Southern West Virginia communities flourish for decades to come."
GO-WV Executive Director Charlie Burd
"Securing a hydrogen hub in West Virginia is a clear win for our economy, workforce and environment and we appreciate the leadership from Senators Manchin and Capito who continue to be strong advocates of leveraging West Virginia's energy resources for the shared benefit of all.
"Through this hub, we're showing how natural gas can advance clean hydrogen in America, which'll drive down emissions, support good-paying, local jobs, and advance our economy. Like all West Virginians, we're excited to get the hub underway."
WV Chamber President Steve Roberts
"Our state is an energy leader and can help supply the world's growing need for affordable, 21st Century energy."
In the news:
Pittsburgh-based gas production and technology company CNX Resources Corp. hailed the ARCH2 award announcement Friday with an eye toward a planned Mingo County ammonia production facility it said will be an anchor project for the hub.
First announced in April, the Adams Fork Energy ammonia project, slated for a reclaimed coal mining site near Gilbert Creek, is being developed by Adams Fork Energy LLC and the Flandreau Santee Sioux Tribe. CNX has noted ammonia can be a carrier of hydrogen.
Granholm described ten production sites across the state to extract hydrogen from natural gas that would be connected through a series of pipelines. Production nodes are expected to be located in Belle in Kanawha County, Follansbee in Brooke County, Washington in Wood County, Point Pleasant in Mason County, and Fairmont in Marion County. The ARCH2 hub will be headquartered in Morgantown.
The seven hubs, which include projects in 16 states, will spur more than $40 billion in private investment and create tens of thousands of good-paying jobs, many of them union positions, Biden said Friday at a cargo terminal in Philadelphia, where one of the hubs will be based.
The White House calls clean hydrogen "essential to achieving the president's vision of a strong clean energy economy" and net-zero greenhouse gas emissions in the U.S. by 2050.
The Appalachian Regional Clean Hydrogen Hub (Arch2), a West Virginia-led effort that combines the production of hydrogen from natural gas with carbon capture and storage, is one of seven regional hubs that will be funded over the coming years. The administration projects the Arch2 effort will create 18,000 construction jobs and 3,000 permanent jobs.