Academy Students Dress for Success at CNX
Students go behind the scenes at CNX Center to see how the business is run, PLUS get lessons in interview etiquette and business attire.
March 14, 2022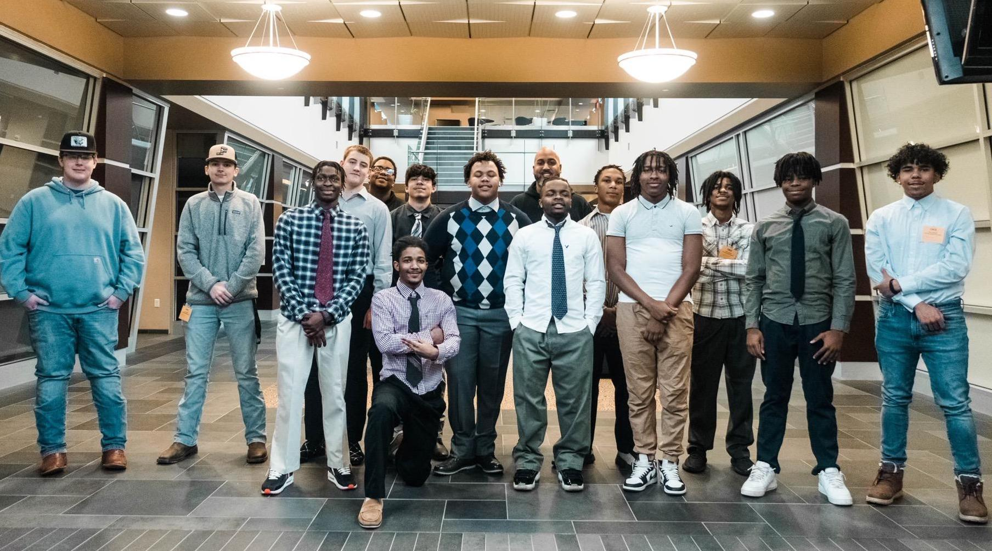 After months of meetings and tours with Academy partners – from steamfitters to electrical workers and even hockey arenas – it was time for the Academy's founding partner, CNX, to host the students for a day. But first the students met with Dress for Success to put outfits together that they could use for interviews. Next they headed to headshot sessions with a professional photographer before sitting in mock interviews with the Mentorship Academy staff. Students have been working on their resumes over several sessions and this was an opportunity to put them to work in a realistic setting.
Once the students had sharpened their skills and attire, it was time to meet several CNX corporate teams that are critical to the energy industry and many other industries.
Land Resources
GIS (Geographic Information System) is essential to CNX operations. The GIS team demonstrated how mapping products are utilized by CNX as well as in the students' everyday life. The team demonstrated how Google Earth works and how they use it to perform calculations on their own. The students were very interested in seeing the mapping around Pittsburgh and even checked out mapping for the moon and mars. Their curiosity ranged from the study of linguistics to questions about how aerial imagery is captured over the years (first by planes and now satellites), the drones CNX uses to survey work sites, how Data is collected (drones, GPS, etc.), and how Google builds the data that they use in Google Earth. ​ 
Accounting
The Accounting group taught the kids about different types of accountants (cost, financial, managerial, tax, government, project, forensic). For example, a cost accountant sees more than the sticker price on a pair of shoes. The real cost has to factor in sales tax, cost of gas, driving to the store, etc. Most of the kids had no idea there was more than one type of accountant. A few even expressed an interest in becoming an accountant. General consensus was that Accounting was the coolest group of the day.
Information Technology
Level 1 IT support is critical to any organization, and especially to CNX. The IT group overviewed various types of IT support careers. To be a technical support analyst requires "soft" skills as well as technical skills. A CNX analyst walked through his training and how the students could learn the same skills either through schooling or self-trained certifications. The IT group has many short term, medium term, long term and recurring tasks. Each one has a significant impact on the company and the students got a better understanding of what happens behind the scenes to optimize company technology.
Facilities Management
There are many hidden mechanical systems making CNX Center the premier building in Southpointe, and the students got to see most of them from the Facilities Manager. Their tour included the heated sidewalk system (no snow shoveling!), the climate controlled data center, the boiler room and the electrical switchgear room used to control, protect and isolate electrical equipment. They also saw the industrial chiller – a refrigeration system used to lower the temperature of machinery, industrial spaces, and process fluids by removing heat from the system.
The students were amazed at how many systems comprise a commercial building and how everything works together.
Multimedia
The CNX Communications team creates many different types of content for various needs across the business, from articles like this one to videos, graphic elements, feature stories, collateral, digital support, and even podcasts. On this particular day, the students got to see the software and equipment used to produce CNX CEO Nick DeIuliis's podcast The Far Middle. They took turns getting interviewed and recording their voices in the host seat. So don't be surprised to hear a Mentorship Academy student appear on a podcast of their own sometime soon!